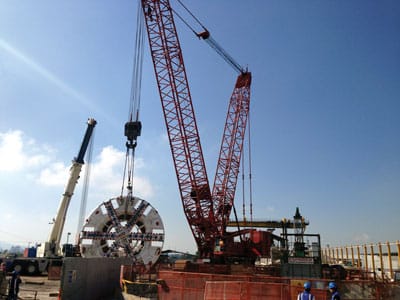 Mexico's underground is in flux, and the majority of the changes are for the good. The tunneling market, which is relatively new, is at the forefront of the TBM industry, utilizing the latest methods and technologies while seasoning a new generation of would-be tunnel engineers.
"We have been able to erase any doubt that mechanized tunneling is the way to go," says Roberto Gonzalez Sr., president of Moldequipo Internacional and incoming AMITOS [Mexican Tunneling Society] president for 2016. "In addition to the actual project results, we in AMITOS have been able to bring back all our experienced tunnelers and increase the participation of a lot of new young engineers."
From wastewater tunnels to recent metro tunnels such as the Mexico City Metro, successful projects are now under the region's belt and more are on the horizon.
Túnel Emisor Poniente II: The Next Generation of Hybrid
An 8-m (26-ft) Robbins Crossover (XRE) TBM is undergoing onsite first time assembly (OFTA) at a suburban jobsite 20 minutes from downtown Mexico City. The machine's anticipated summer 2015 launch will be for a 5.9-km (3.7-mile) long tunnel at the Túnel Emisor Poniente (TEP) II Project. The contractor, Aldesa/Proacon/Recsa joint venture, has selected The Robbins Co.-developed OFTA method for the project as it allows for a TBM launch on a tight schedule. The complex wastewater conduit promises many challenges, from geology to site logistics. Difficult ground conditions are expected including significant rock on most of the tunnel alignment and the last 10 percent in soil. In addition there is limited space for OFTA in the very narrow assembly and launching pit.
The challenges are not without precedent, however. The experienced Robbins team and project manager, Martino Scialpi, were able to make some key decisions in the design process that will be crucial for excavation at TEP II. These design changes are based on lessons learned from a successful excavation at Turkey's Kargi Hydroelectric project. The 7.8-km (4.8-mile) tunnel in mountainous central Turkey encountered much more difficult ground than was predicted through geological testing.
"Kargi was a great experience for us and an example of unexpected geology that now informs some of our engineering decisions," Scialpi says. "We went through a rock mass with a 10 m (32.8 ft) Double Shield TBM, but it would have worked best using a Crossover machine or even EPB — the actual geology turned out to be very poor and weathered rock; it could not really be called solid rock."
Ultimately, after in-tunnel modifications, the machine at Kargi was able to excavate the ground very efficiently, even boring 723 m (2,372 ft) in one month — more than twice the rate of a drill and blast heading proceeding from the opposite end of the tunnel. The TBM broke through in July 2014.
The latest generation of Robbins Crossover machines has been improved by the experiences in Turkey. For instance, the successful canopy drill design from Kargi was pre-installed on the TEP II TBM, providing another ring for grout drilling or forepoling close to the cutterhead. As used at Kargi, the canopy drill will operate in the top 120 degrees of the tunnel, while a second probe/grout drill is located further back on the machine, allowing two different patterns of holes.
A complex excavation at Kargi has also prepared the team for the varied ground at TEP II. High torque/breakout torque is another feature added to the TEP II machine, so that two-speed gear boxes can be activated to achieve high torque at a low speed, similar to how an EPB operates. With two-speed gear boxes, the cutterhead can be freed in bad ground where it might otherwise become stuck.
While crew members at the Kargi site had to generate immediate solutions to improve progress, the TEP II crew was able to borrow from the lessons learned. The team at TEP II has a difficult excavation ahead of them, but with the informed machine design, they are on the right track. The project, for Mexico's National Water Commission CONAGUA, is expected to take 30 months to complete and will reduce wastewater flooding risks in three municipalities in the Valley of Mexico.
Emisor Oriente Goes Deep
Just outside Mexico City's downtown area, the much-publicized Emisor Oriente Wastewater Tunnel is continuing excavation work. Mexico City's largest civil construction project, a 62-km long mega tunnel, is arguably one of the most challenging TBM tunnels in the world today. This monumental work of engineering will create a complementary and alternative exit to Emisor Central (the capital's existing wastewater line), which will bring down the risk of flooding in Mexico City and its suburbs, and give security to 20 million people. In the rainy season, it will work simultaneously with current deep drainage lines and, in the dry season, it will make for easy maintenance.
The ground conditions of the pipeline are some of the most difficult in the world. Located in the Valley of Mexico, geology consists of a drained lake bed with clays interspersed with volcanic rock and boulders from long dormant, buried volcanoes in the area.
A total of six 8.93-m EPBs were provided for the project — three from Robbins. The TBMs utilize knife edge and drag bits that can be changed out for 17-in. diameter disc cutters depending on the geology. Two-stage screw conveyors help to regulate varying water pressures of 4 to 6 bars — some of the highest pressures EPBs have ever operated under. An initial 900-mm diameter ribbon-type screw conveyor accommodates expected boulders up to 600 mm in diameter. Each machine is boring a section of approximately 10 km.
Lot 3
As of May 2015, the EPB at Lot 3 had broken through into shaft 11 at the 3.1 km mark and was undergoing some refurbishment work, including complete assembly and commissioning of a new wear-resistant screw conveyor to tackle very abrasive rock including full-face basalt. The two-screw setup was uninstalled and one new screw conveying material onto a belt replaced the design, due to lower expected pressures.
The new characteristics of the setup include:
900-mm diameter screw conveyor.
Designed for lower pressure of 4.95 bar.
System able to handle grain sizes up to 300 mm.
The screw conveyor casing will have wear protection material made of chromium carbide (hardness 60-65 HRc). The casing is also split into sections for easier maintenance.
The helix of the screw is protected along its full length with replaceable chromium carbide inserts welded into place (hardness 55-60 HRc).
A transfer conveyor belt.
Since installation of the new conveyance setup the machine has once again begun operations, boring 30 m in six days.
Lot 4
Excavation has proceeded well at Lot 4, with over 5,566 m excavated (more than half of the allotted tunnel). The TBM will be stopped briefly at shaft 15 so that contractor CARSO can move the continuous conveyor system from shaft 17 to shaft 15.
Lot 5
Assembly of the machine started in March 2014, and excavation began in October of last year. To date the machine has excavated 217 m — the excavation was stopped at 150 m in order to complete the continuous conveyor setup.
Several challenges lie ahead for Mexico's deepest tunnel. "The first section of this Lot is Taximay [lake clay], which is a nice ground to achieve good advance rates in," says Andrei Olivares, project manager for Robbins Mexico. "Once we reach shaft 19, that is when mixed ground conditions and rock sections are expected."
While the machine was modified in accordance with the abrasion-resistant additions made at Lots 3 and 4, hurdles remain due to the depth. "The depth of the shaft makes all the logistics more complex," Olivares says. "Safety and communication with the surface are also big challenges. It requires a lot of coordination. This is the Lot on the critical path for this project, so we have a big task ahead of us."
Political Leanings
While many projects are under way in Mexico, the future of the market is in the hands of the country's politicians.
"We have been on a roller coaster for the past five years. We were doing good with an uptrend overall, including not only mechanized tunneling but also conventional tunneling where we had large tunnels for highway projects," Gonzalez explains. "However, we have had problems after the change in the government back to the old party. This party has great hopes for construction but a lack of experience. That, combined with falling oil prices, has resulted in several projects being cancelled or delayed."
Despite the challenges, Gonzalez cites a number of tunnels under way, including water tunnels in Monterrey, rail tunnels in Mexico City and Toluca and an extension of Mexico City's Line 12. Future work will depend on funding, but the country has an infrastructure need and the use of TBMs looks assured. Projects on the table include aqueducts, rail tunnels and gas lines across Mexico.