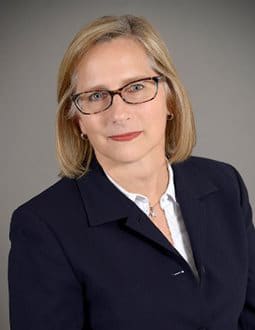 Laura Mohr joined HNTB Corp. as vice president and rail and transit group director in one of the firm's Los Angeles offices. She brings more than 25 years of industry experience in the planning, design and construction of public transportation projects, including light, heavy, commuter and intercity rail and bus rapid transit. In addition, she has led analysis, design and implementation of safety improvements for existing and new at-grade rail crossings.
At HNTB, she will be responsible for managing rail and transit projects for clients such as Los Angeles County Metropolitan Transportation Authority and Metrolink.
"Laura comes to HNTB with a wide array of experience and leadership in the rail and transit industry," said Michael Palacios, PE, HNTB Southern California District leader. "Her industry expertise and leadership experience will serve as vital assets to HNTB as the firm continues to lead infrastructure projects throughout Southern California.
Throughout her career, Mohr has worked on Southern California infrastructure projects in varying capacities, including as director of civil engineering for the Regional Connector Transit Project in Los Angeles, manager of crossing designs for the extension of the Metrolink Commuter Rail Service to Riverside and Perris, and engineering project manager for Metro Red Line Universal City Station surface works.
Immediately prior to joining HNTB, Mohr served another consulting firm as deputy project director for the preparation of preliminary engineering and design-build tender documents for Phase 1 of the Abu Dhabi Metro Project in the United Arab Emirates, a 19-km heavy rail transit system with four underground and eight elevated stations. It will be the city's first passenger rail system.
Mohr earned a bachelor of science in civil engineering from Northwestern University and is a registered civil engineer in California.
In Southern California, HNTB has been involved in some of the region's most high-profile, complex infrastructure programs that are reshaping the region. In addition to the Sixth Street Viaduct Replacement Project, HNTB is providing lead design and engineering services for the Crenshaw/LAX Transit Project on behalf of the Los Angeles County Metropolitan Transportation Authority, and the Tom Bradley International Terminal Expansion for Los Angeles World Airports.