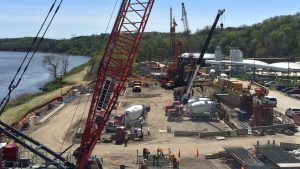 Pittsburgh-based geotechnical specialty contractor Nicholson Construction Co. is working on CSO and sewer jobs across the country. It most recently began work on the Missouri River Waste Water Treatment Plant (MRWWTP) in Omaha, Nebraska.
The plant is undergoing an expansion that includes the construction of a new chlorine contact basin located along the Missouri River. While the plant actually serves approximately 125,000 residents in Omaha, the industrial and domestic flows to the plant give it the equivalent population of 600,000 people.
Nicholson was awarded the contract to install a 4-ft thick reinforced concrete diaphragm wall, which will act as support of excavation for the new chlorine basin building, a water cut-off barrier and will become a permanent part of the basin foundation. The wall will reach depths of approximately 82 ft and will be excavated using a hydraulic clamshell. Additionally, augercast piles will be installed to provide increased deep foundation support and as deep foundation elements for the odor control duct support.
RELATED: Nicholson Awarded Secant Pile Contract for St. Louis CSO Facility
Aging combined sewer overflows are a water pollution concern for more than 770 cities in the United States, per the Environmental Protection Agency. Nicholson has been a part of many of the country's biggest remediation projects, including the Dugway Storage Tunnel in Cleveland and the Maline Creek CSO in St. Louis. Both projects included the installation of secant pile walls at multiple site locations, and both wrapped up in December of 2016.
"It's been great to draw on Nicholson's extensive CSO experience for this project," said Jewels Redding, project manager. "Our team has worked on these types of projects across the country over the years, but we always learn something new to apply to the next one. We're looking forward to another successful project here in Omaha."
Nicholson's portion of the work will wrap up in early summer 2017.
RELATED: Nicholson Begins Piling Work on Dugway Storage Tunnel