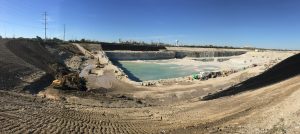 Geotechnical contractor Nicholson Construction recently returned to Illinois to continue work on the McCook Reservoir. The current contract, which is Nicholson's sixth at the McCook Reservoir, includes the design of a permanent soil nail wall for the McCook Reservoir Expanded Stage 2 project.
The McCook Reservoir is part of the Metropolitan Water Reclamation District's (MWRD) large-scale engineering project designed to reduce flooding and Combined Sewer Overflows (CSOs) within the MWRD's service area, including the Chicago River watershed in Cook County, an area that includes Chicago and dozens of other communities.
RELATED: TARP Celebrates Milestone with Thornton Reservoir Ribbon Cutting
Nicholson is working with Schwartz Excavating Inc. again, this time with Schwartz acting as the General Contractor for the project.
"It's great to be back at McCook and working with Schwartz Excavating again," said Dan Thome, Vice President, Central Region, Nicholson Construction. "Schwartz and Nicholson make a great team and we're looking forward to another successful project in Illinois."
The McCook Reservoir will hold about 10 billion gallons of water when completed. The second phase of the work is expected to be completed by 2029. Nicholson's portion of the work will be completed later this year.
RELATED: Specialty Contractor Nicholson Aids in CSO Tunnel Construction