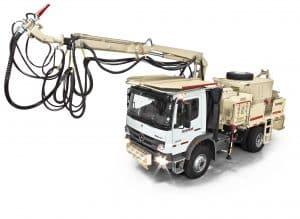 Normet, the leader in sprayed concrete solutions (equipment, construction chemicals, expertise), expands its offering array and gives customers ever-increasing flexibility in tailoring their tunneling operations for safety through mechanized spraying and productivity with custom equipment configurations for the global industry.
The Alpha 1430 Kit is built on a self-supporting frame and fits a wide variety of commercially available truck chassis, enabling contractors to efficiently and economically configure a concrete sprayer for medium to large cross section tunnels.
Sprayed Concrete Product Line Manager Ilpo Martikainen elaborates: "The latest innovation from our Chilean R&D organization enters the market with different versions that can be mounted to almost any commercially available truck chassis with suitable pay-load capacity. This unique piece of equipment is designed and well suited for those market areas and construction sites where the same concrete spraying units are used in different headings or slopes with different cross section dimensions. The possibility to drive this unit on normal roads (local restrictions may apply) widens the usage of Normet's technologies to a totally new level."
RELATED: Shotcrete for Tunnel Rehabilitation
The Alpha 1430 Kit's structure and modularity gives the flexibility to add features such as a compressor and electro-hydraulic power pack. Also, changing the kit from one chassis to another is made easy.
"We understand that contractors are spraying more and more concrete around the world as this ground support method continues to gain popularity," says Mike Rispin, Senior Vice President for Global Sales and Marketing. "We continue to conceive of innovative and unique ways to enhance their efficiency and competitiveness, whether through our equipment technology, like this Alpha 1430 Kit, or with state-of-the-art construction chemicals, complemented by the expertise of our workforce."
The Alpha 1430 Kit enables the spraying of cross sections up to 12 mi high and 20 m wide. It can be fit to new or used truck chassis.  It offers the well-known Normet NSP pump and XEP accelerator dosing system reliability. Normet produces the Alpha 1430 Kit both in Peltosalmi, Finland, and Santiago, Chile.