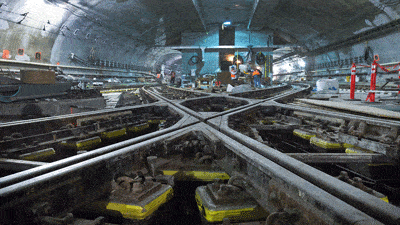 The Metropolitan Transportation Authority (MTA) on Sept. 13 opened the new 34 Street-Hudson Yards 7 Subway Line Icon Station that introduces subway service to the far West Side of midtown Manhattan, fostering transit-oriented development in the emerging, mixed-use community there. The station makes the 7 Subway Line Icon the only line south of 59th Street to provide service west of Ninth Avenue, offering access to the Jacob Javits Convention Center, the High Line and the newly opened Hudson River Park.
The $2.42 billion, 1.5-mile extension of the 7 Subway Line Icon Line to 34 St-11 Avenue was funded by the City of New York. It is the first new station added to the subway system since MTA opened the Lexington Avenue-63 Street, Roosevelt Island, and 21 Street-Queensbridge stations in 1989.
MTA Chairman and CEO Thomas F. Prendergast was joined by Mayor Bill de Blasio, MTA Capital Construction President Dr. Michael Horodniceanu, New York City Transit Interim President James L. Ferrara and other elected officials and stakeholders to cut the ribbon marking the opening of the 34 Street-Hudson Yards 7 Subway Line Icon Station. The station is expected to serve more than 32,000 entries and exits on weekdays when it opens and is designed to handle as many as 25,000 during a peak hour.
"This station is the centerpiece of an ambitious plan to make the far West Side of Manhattan a top-tier destination for residents and visitors alike while meeting the daily needs of millions of subway riders, and one that is poised to meet future needs," Governor Andrew M. Cuomo said. "It is a clear example of how the City and State can work together to support a transit network that drives our regional economy."
"Just as the 7 Subway Line Icon train created neighborhoods like Long Island City, Sunnyside, and Jackson Heights in the 20th Century, this extension instantly creates an accessible new neighborhood right here in Manhattan," Chairman Prendergast said. "It will improve service reliability for all 7 Subway Line Icon line customers, and thanks to the foresight of Mayor Bloomberg, it is anchoring the transit-oriented, mixed-use development transforming the far West Side."
"Wide-open column-free spaces, inclined elevators, air tempering and beautiful mosaic artwork all make the 34 Street-Hudson Yards station a true station of the future," said President Horodniceanu. "This new, modern station will be the lifeline of Manhattan's newest neighborhood. It will make it possible for thousands of residents, employees and visitors to get to Hudson Yards easily and quickly. Without the extension, this new development would not have been possible."
The station and the new subway line contain state-of-the-art mechanical, electrical and communications equipment and systems. Highly functional public spaces provide capacity for future system changes, integrating signage, lighting, digital advertising and artwork. The new 34 Street-Hudson Yards 7 Subway Line Icon Station contains other notable "firsts" for the New York City Transit subway system including the longest column-free station platform and the longest escalators inside any station.
The entire 34 Street-Hudson Yards 7 Subway Line Icon Station features high-end finishes such as stainless steel tile wall panels, painted steel ceiling panels, granite floor tile, energy efficient lighting and other architectural features.
Project History
As part of the redevelopment of Hudson Yards, a 45-square block area on Manhattan's far West Side, the City of New York and the MTA worked together to extend the 7 Subway Line Icon Line west from its previous terminus at Times Square. Construction of the extension began in December 2007. For the first time in New York City, tunnel boring machines (TBMs) were used to mine the subway tunnels. Two Herrenknecht-manufactured TBMs burrowed 9,285 ft from Eleventh Avenue and 26th Street to Times Square. As the TBMs mined, they placed pre-cast concrete lining rings along the excavated tunnel, making the permanent liner of the finished tunnel. The first 300 ft of tunneling was complicated by a section of soft ground between 27th and 28th streets that required a ground freeze to reinforce the soil, allowing the machines to pass through as if it were solid rock.
Tunneling between 34th Street and Times Square presented other unique challenges, as the line now runs under the existing Eighth Avenue Subway, Amtrak/NJ Transit tunnels, the former New York Central Line tunnels, the Lincoln Tunnel and the Port Authority Bus Terminal. More than 6,500 cu yd of rock were removed from under the terminal. This was done safely, without impeding Port Authority bus operations and tens of thousands of daily bus passengers.
To create the new station cavern below 34th Street and Eleventh Avenue, the contractor used controlled drill-and-blast. Construction resulted in over 409,000 cu yd of excavated rock, hauled away via 26,900 truck trips.
The general contractors for the project included S3II Tunnel Constructors (a joint venture of J.F. Shea Construction Inc., Skanska Construction Inc. and Schiavone Construction Inc.), CCA Civil/Halmar International  LLC (a joint venture of China Construction of America Inc. and Halmar International LLC), Skanska/Railworks JV (a joint venture of Skanska Construction Inc. and Railworks Transit Inc.), Yonkers Contracting Co., Scalamandre/Oliveira JV (a joint venture of Peter Scalamandre & Sons Inc. and Oliveira Contracting Inc.), and John P. Picone Construction Inc.