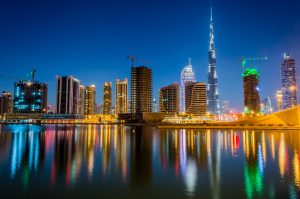 Parsons announced that it was awarded a contract by Dubai Municipality for two deep wastewater tunnels and associated link sewers. The two tunnels are required to support Dubai's strategic 50-year master plan and cover the key catchments of Deira and Bur Dubai.
The total combined length of the tunnels will be more than 70 km, supported by approximately 140 km of link sewers and key pumping stations. When complete, the project will eliminate more than 100 pump stations throughout the city that currently transfer wastewater to treatment plants in Al Warsan and Jabal Ali. The primary objectives for the project are to reduce the overall cost of treating wastewater in the Emirate, reduce carbon emissions through the use of gravity systems and decreased power consumption, and prepare for Dubai's expected population growth. The total construction cost of the project is AED 6.4 billion ($1.7 billion U.S.). Parsons' services include feasibility studies, preliminary design, and tender preparation and support, followed by program management of the detailed design and construction phases and supervision of the construction phase of the primary tunnels and pumping station.
RELATED: Parsons to Lead Marseille Metro Expansion
"This project is significant to Dubai Municipality and its role in the development of Dubai as a global city," said Mike Walsh, Parsons Group President. "Parsons has extensive success managing complex and challenging wastewater projects around the world; we look forward to providing our services to Dubai Municipality."
Jaafar Hillawi, Parsons Senior Vice President and Middle East Africa (MEA) Division Manager, Industrial, added, "We are excited to work on this important project, and we are committed to providing the best value solutions and proven delivery methods."
Parsons has been working in the Middle East region for more than 60 years and has offices in the United Arab Emirates, Oman, Qatar, Saudi Arabia and Bahrain. Parsons' portfolio of ongoing projects in the Middle East includes major highways, bridges, rail and transit, airports, ports, water infrastructure, plus hospitals, public schools, universities, mosques, and other public buildings.