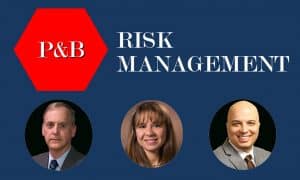 P&B Risk Management, located in Bristow, Virginia, is a women-owned small business providing risk management, project management and technical consulting services. The company, founded in October 2016, recently marked its one-year anniversary.
As part of the technical consulting services, P&B Risk Management provides engineering and technical analysis with reports as required by the customer. P&B Risk Management aims to engage with Department of Defense and other Government organizations to provide the subject matter expertise available within the company. The company has experts with the appropriate clearances to perform classified work.
P&B Risk Management principals include Erika Perez, founder and President, Norman Perez, Vice President-Risk Management, and Mark Baker, Vice President-Technical Consulting.
RELATED: Risk Management Professionals Convene in DC
Erika Perez has over 20 years of managing and supporting projects of varying size and complexity.
Norman Perez has 18 years of experience in construction of underground facilities including design management, risk management, and mechanical, electrical, and plumbing (MEP) coordination, with experience in consulting and contracting. He has worked with the following underground construction technologies: stacked drift excavation, sequential excavation (SEM/NATM), drill and blast, TBM, EPBM, horizontal directional drilling, roadheader excavation, and cut-and-cover structures. Prior to joining P&B Risk Management, Perez spent 11 years with Peter Kiewit and Son's – Underground District, and seven years with Lachel and Associates where he worked over the last five years in the development and implementation of the DC Water Clean Rivers Project risk management program, including multiple probabilistic schedule and cost risk analyses.
Baker has more than 30 years of tunneling/geotechnical/nuclear engineering and project management experience in government contracts. Prior to joining P&B Risk Management, Baker spent 14 years with Raytheon, where he served as an expert on underground facilities. Prior to that, he spent 20 years with the U.S. Navy, where he served as a nuclear submarine officer.