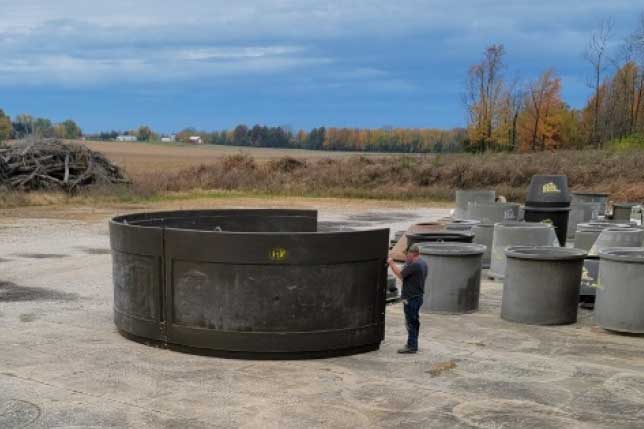 According to the U.S. Department of Transportation, conventional precast concrete segments have been used in large diameter vehicular and sanitary sewer tunnel design since the mid 1970's. Federal mandates (reduction in heavy metals and I & I), and system design changes (increased retention times) and other factors have exacerbated corrosion problems.
Efforts to combat the ever-growing effects of microbially induced corrosion (MIC), have forced owners, engineers, and designers to incorporate fiberglass, PVC, and HDPE thin-film liners to protect the concrete segments. These systems can have compatibility and installation issues. Chemical additives and calcareous aggregates have also been utilized in concrete segments but have only shown to somewhat retard the rate of corrosion.
Over the last several decades we have seen the successful development, implementation and utilization of precast polymer concrete in sanitary sewer applications such as manholes, wetwells, and microtunneling pipe. Polymer concrete is inherently corrosion resistant, while offering greater features and benefits than precast conventional concrete. The latest innovative advancements in polymer concrete technology offer the industry a more cost-effective, structurally superior, and completely corrosion proof segmental tunnel lining solution.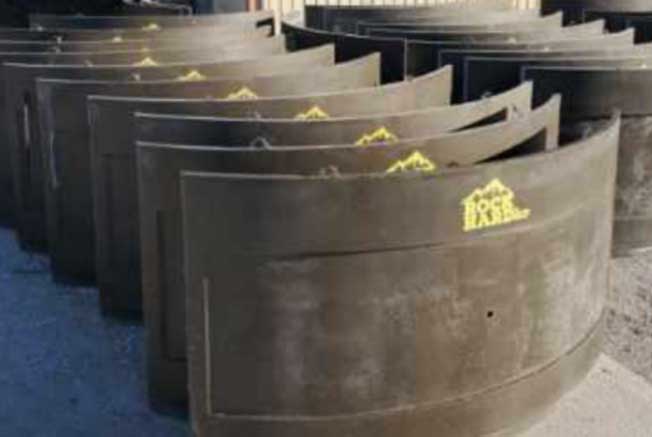 SolidCast Polymer Technology, LLC has been serving the underground construction market with its polymer concrete product brand – RockHardscp, since the 1980s. With a variety of precast polymer concrete products, including pipe, manholes, wetwells and segmental pipe, the precast polymer concrete market has grown exponentially. According to SolidCast Polymer Technology, LLC president, Rich Cubeta, whose corrosion engineering background helped him develop the original precast polymer concrete concepts and technologies to serve the chemical processing industry.
"In the early days there wasn't a lot of consideration for corrosion protection – most cities were looking for a cheap, quick fix and installed inexpensive coatings to protect their sanitary sewer manholes from corrosion," Cubeta recalls. "But in the late 1990s, we landed a large precast polymer concrete manhole project with the City of Houston giving us exposure and credibility. The success of that project caught the interest of other agencies facing similar corrosion problems, and our business began to grow."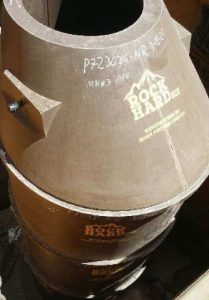 It was around that time that SolidCast Polymer Technology had begun to perfect its precast polymer concrete capabilities – automating the manufacturing process and perfecting its ability to cast larger structures and produce greater volumes, while simultaneously improving quality control and quality assurance. As of 2022 SolidCast Polymer Technology, headquartered in Houston, Texas, has expanded its geographic footprint through two RockHardscp licensed (ISO 9001 certified) manufacturing plants, located in Indiana and Arizona.
According to Cubeta, there are several important advantages of RockHardscp polymer concrete. "RockHardscp is stronger than conventional concrete", he says. "While conventional concrete exhibits an average compressive strength of 3,500 psi, RockHardscp has a minimum compressive strength of 12,000 psi. That allows RockHardscp to design thinner, lighter and lower cost structures, while eliminating coatings and liners needed for corrosion protection."
Including its inherent corrosion resistance and exceptional strength, RockHardscp polymer concrete contains no Volatile Organic Compounds or Hazardous Air Pollutants. Along with offering a "green" alternative, RockHardscp segmental tunnel systems have an 85% lower carbon footprint than conventional concrete, and a water consumption quotient of effectively 0%.
The company has recently provided RockHardscp segmental tunnel liners for a rehab project for Macomb County near Detroit using the liners to repair a failing large diameter sewer and is working with design firms on specifying the product on projects across the country and internationally, including segments to be installed behind a TBM.
A recent breakthrough in polymer concrete technology is the patented RockHardscp "Core Technology," which allows the placement of light-weight cores within each tunnel segment, reducing the overall weight and cost of the segment, while preserving the same physical properties and characteristics as if the segment was solid.
Cubeta states, "long-term chemical and physical property testing ensures RockHardscp segmental tunnel systems will last for over 300 years, the ultimate "set and forget" solution."