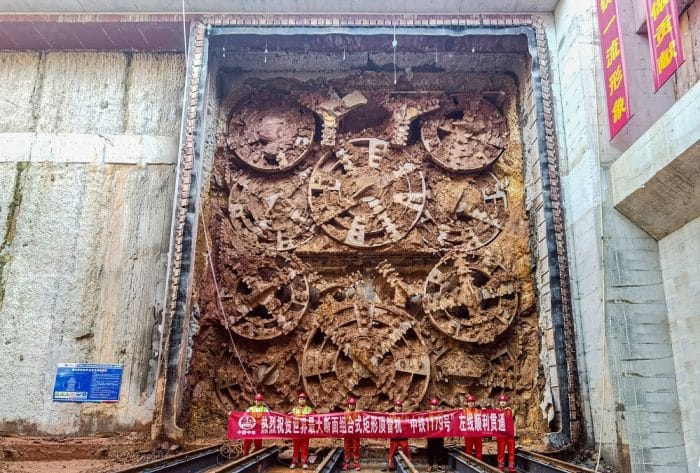 On Aug. 22, 2023, the world's largest combined rectangular pipe jacking machine CREC 1179, developed and manufactured by China Railway Engineering Equipment Group, Co. Ltd. (CREG), successfully broke through the left line for the Shasan Station of Shenzhen Metro Line 12 project.
Shasan Station is a two-story underground island station and has a total length of 208.4m, among which 70m section is excavated by CREC 1179. Its cross section upon completion is 22.6m wide and 13.5m high. To overcome complex geological conditions such as rich underground water and "upper soft and lower hard" stratum, CREG has customized the super-large cross-section rectangular pipe jacking machine CREC 1179 with the width of 11.29m and height of 13.55m, which is equal to the height of four-story building.
CREC 1179 is composed of upper and lower equipment, designed with multiple cutter heads cooperated by multiple screw conveyors and adopts the micro-benching tunnelling technique and the attitude measurement and control system to realize the excavation with shallow overburden, large cross-section and zero gap, which could guarantee the safe, high-quality and efficient construction.
During the excavation, CREC 1179 worked stably with controllable attitude and didn't cause obvious ground settlement. Shasan Station on Shenzhen Metro Line 12 is China's first project to use a super-large cross-section rectangular pipe jacking machine, which realizes a major innovation of underground subway construction methods.