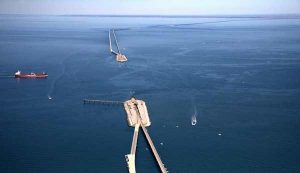 On July 15, the the Chesapeake Bay Bridge and Tunnel District received revised bids for the Thimble Shoal Tunnel project. Three firms re-submitted bids after initial bids came in hundreds of millions of dollars higher than anticipated earlier this year. Initial bids came in at more than $1 billion dollars compared to the engineer's estimate of $724 million.
The revised bids, which take into account reduced project scope, were Dragados USA/Schiavone: $755,987,318 (initial bid: $1,092,000,000); Archer Western/Vinci: $785,883,000 (initial bid: $1,071,683,000); and Bouygues/Traylor Brothers/Manson: $848,452,987 (initial bid: $1,016,046,800).
According to the Virginian-Pilot, officials will discuss further specifics of the changes to the project after a committee meeting on July 27. All three teams proposed building the tunnel using the bored method.
RELATED: HNTB Named CM for Thimble Shoal Tunnel
The re-scoping of the project was focused solely on the reduction of costs by reducing or eliminating unnecessary elements of the project without compromising the quality or performance specified in the technical requirements of the RFP documents. Specifically, 1) scope changes that would increase the long-term cost of operating and maintaining the tunnel were not considered; 2) re-allocation of construction risks between the CBBT and the design-build teams were not considered; and 3) changes to the Comprehensive Agreement, or contract, were not considered.
The construction of an additional two-lane tunnel under the Thimble Shoal Channel will expand capacity and improve safety for travelers who utilize the Chesapeake Bay Bridge and Tunnel and protect the economic competitiveness and livability of the region through enhanced resiliency as the Chesapeake Bay Bridge and Tunnel serves as the sole connection between the Delmarva Peninsula and the Hampton Roads area.