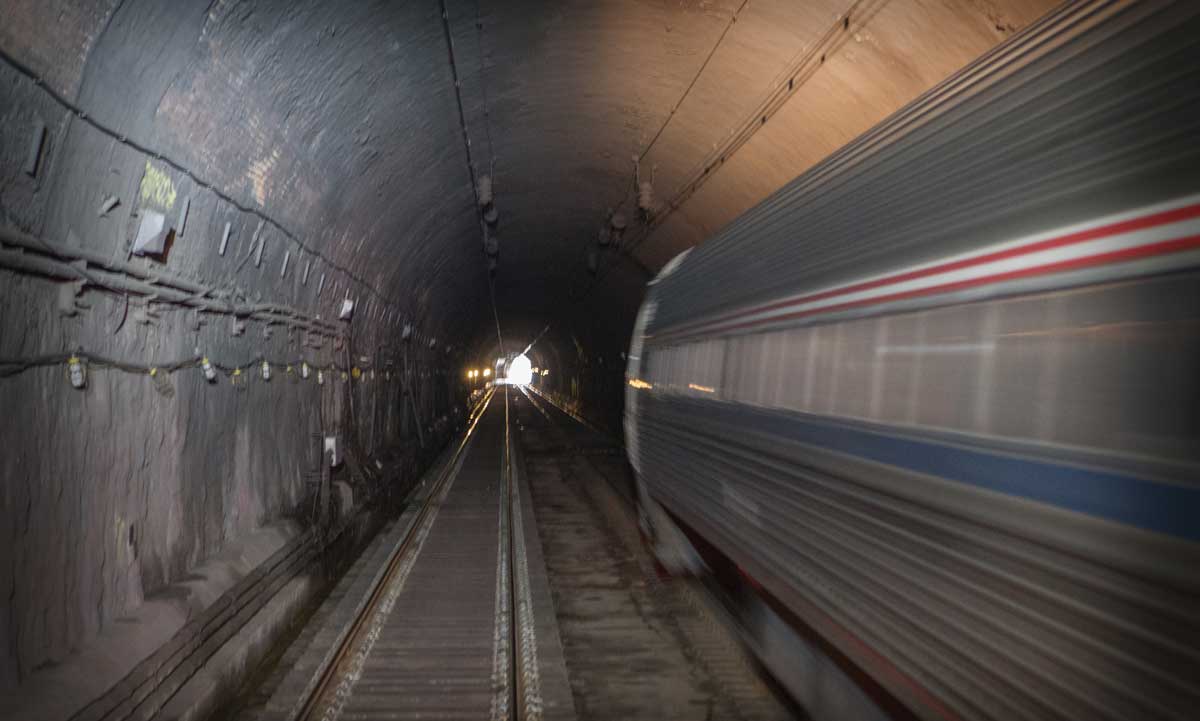 Since 1971, Amtrak has been the agency operating the nation's intercity passenger trains. Today, Amtrak serves more than 500 communities over 21,000 route miles in 46 states. It is currently in the process of improving its service by investing billions to repair, replace and build new infrastructure. Among its projects are the Hudson Tunnel connecting New York and New Jersey, and the B&P Tunnel replacement project in Baltimore.
To learn more Amtrak and its initiatives, TBM spoke with Jason Hoover, Assistant Vice President, Major Programs – Bridges, in Amtrak's Capital Delivery department.
TBM – Let's start by discussing the role of rail in U.S. transportation. In some areas there is support for rail and the buildout of public transportation networks. What changes are you seeing? How is Amtrak positioning for the future?
AMTRAK – Amtrak is leading a new era of passenger rail with historic investments that will improve our service for communities across the nation and expand our network to serve more people with more passenger trains. Thanks to the bipartisan support of Congress and the passage of the Infrastructure Investment and Jobs Act (IIJA), Amtrak is introducing a modern fleet, enhancing stations, building new tunnels and bridges and upgrading other critical infrastructure nationwide. As President Biden has stated, "we have a once-in-a-generation opportunity to position Amtrak and rail to play a central role in our transportation future."
Ridership exceeded our expectations last year – and continues to do so. We are now at around 85% of pre-pandemic levels. This shows that travelers are flocking back to Amtrak for intercity trips and that the United States is ready for more and better passenger rail service. We're committed with our various federal and state partners to delivering reliable, high-quality and modern services to the tens of millions of Americans who ride our trains and introducing the benefits of travel to the Americans who are taking their first trip, as thousands of new riders experience Amtrak each month.
TBM – The Infrastructure Investment and Jobs Act (IIJA) provides funding for a variety of transportation projects across the country. How will this impact Amtrak? What are the main priorities being addressed systemwide?
AMTRAK – The IIJA provides a historic down payment towards reversing decades of underinvestment in passenger rail – in fact, it is the greatest level of investment in rail this country has ever seen. With $66 billion for rail across five years ($22 billion for grants to Amtrak + $44 billion for Federal Railroad Administration discretionary grants), IIJA funding will enable Amtrak to advance crucial state-of-good-repair and major capital infrastructure upgrades primarily along the Northeast Corridor (NEC), and also across the National Network.
Traditionally known as a transportation provider, Amtrak is now also a major construction company executing one of the largest capital construction programs in the country (over $50 billion of capital investments in planning and development). Since being created in early 2022, Amtrak's Capital Delivery organization has grown by over 50% (from 400 employees in Jan. 22 to 630 today). We're continuing our aggressive hiring efforts to build staff capacity and meet demand. Due to the elevation of the Capital Delivery department and the passage of the IIJA, Amtrak can build the future assets we need to deliver the high-quality service we envision for our customers.
TBM – Here at TBM, we focus underground infrastructure, so we are interested in the construction and upgrading of tunnels along the Northeast Corridor, specifically the new Hudson Tunnel and Baltimore & Potomac Tunnel projects, and the East River Tunnel refurbishment. Can you discuss the need for the projects and what the benefits will be for users?
East River Tunnel Rehabilitation
Overview
The East River Tunnel (ERT) consists of four tubes connecting New York City to destinations east, and is used by Amtrak, Long Island Rail Road (LIRR) and NJ TRANSIT trains. The tubes, which opened in 1910, require significant upgrades and comprehensive rehabilitation to modernize critical NEC infrastructure and improve reliability for a new era of rail.
The ERT Rehabilitation Project will restore the two tubes that were damaged by Superstorm Sandy. This work will modernize the tunnel infrastructure, improving safety, reliability, and security and bring the systems to a state of good repair. The project will involve demolishing the existing tunnel systems down to the concrete liners, followed by reconstructing and modernizing all tunnel systems. These include:
Repair of the tunnel liner
Reconstruction of the bench walls in a modern, high-low configuration with new cable conduits
Conversion from ballasted track to a modern, direct fixation track system
Installation of new fire and smoke detection systems
Replacement of signals, traction power, standpipe and drainage systems
This project is partially funded by IIJA. It has received funding through the Federal Railroad Administration's (FRA) Federal-State Partnership for State of Good Repair Program. The FRA also identified it as a "Major Backlog Project" on the NEC, eligible for additional federal funding through the Federal-State Partnership for Intercity Passenger Rail Program. The State of New York is also providing funding.
Upcoming Procurements:
Tunnel 1 & 2 rehabilitation (Design Bid Build (DBB) delivery) – has commenced via the Request for Qualifications process
Anticipated construction timeline:
Preparatory work: already underway in Sunnyside Yard
Major construction: anticipated to start in early 2024 and continue through 2027
B&P (Baltimore & Potomac) Tunnel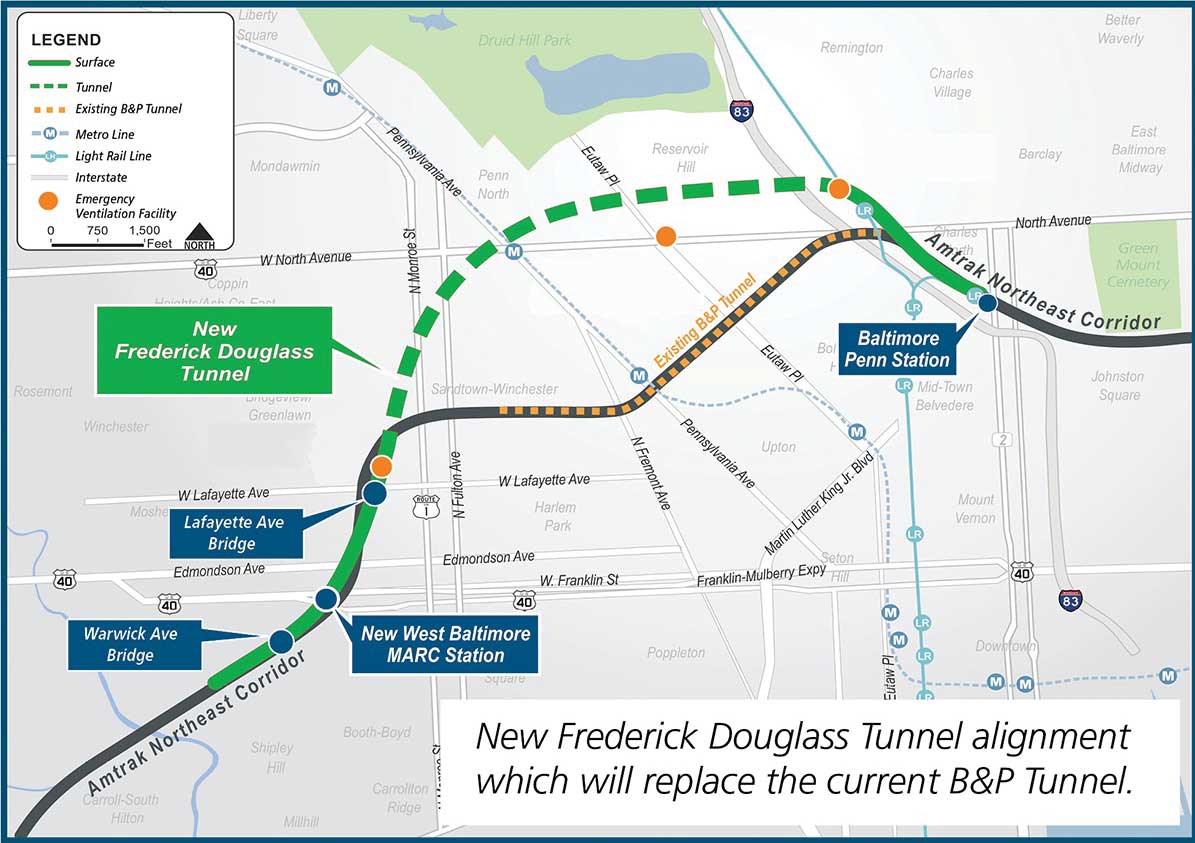 Overview:
The B&P Tunnel Replacement Program will modernize and transform a four-mile section of the Northeast Corridor. The new Frederick Douglass Tunnel is the centerpiece of this program, featuring two high-capacity tubes along an alignment with softer curves. Additional program work includes:
New ventilation and emergency egress facilities
New signaling systems, overhead catenary, and track
Five new roadway and railroad bridges in the area surrounding the tunnel
New ADA-accessible West Baltimore MARC station
The B&P Tunnel, located in Baltimore, is nearly 150 years old and the location of the largest rail bottleneck on the NEC between Washington, D.C. and New Jersey. The tunnel's tight curvature and steep incline requires trains to reduce speeds to 30 mph. Now is the time to provide the 9 million MARC and Amtrak customers in this area with a modern tunnel that delivers a faster, more reliable trip.
When the program is complete, speed and capacity improvements will help enable service growth and eliminate nearly seven hours of train delays for the average weekday. The capacity of the Tunnel is expected to nearly triple, and trains travelling through the Tunnel will be able to go up to 110 miles per hour, an increase of 80 mph from the current 30 mph limit. According to one estimate, replacing the tunnel would save nearly 450,000 hours per year for MARC and Amtrak customers.
Procurements:
Active:
RFP to select CMAR contractor for Package B
RFQ to select CMAR contractor for Package A
RFQ to select a delivery partner who will provide overall programmatic and project management to deliver the entire program
Anticipated construction timeline:
The B&P Tunnel Replacement Program will unfold in several stages:
Early works: underway
2024: Major construction begins
2026: Tunnel boring begins
Amtrak recently hosted an Industry Day event for the B&P Tunnel Replacement Program with additional project information including renderings (Web: https://www.amtrak.com/content/dam/projects/dotcom/english/public/documents/bptunnel/bp-industry-day-presentation.pdf).
Hudson Tunnel Project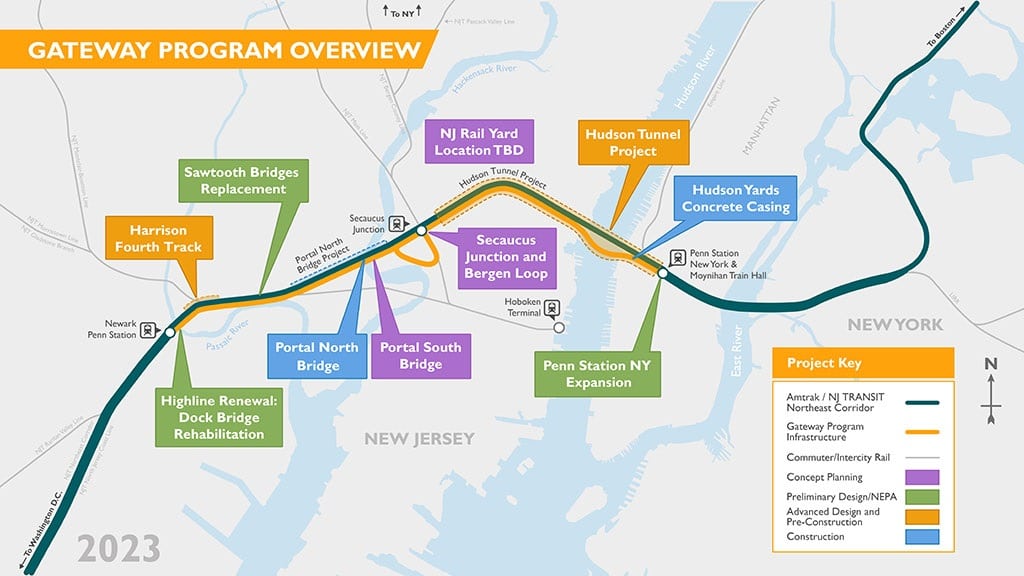 Overview:
The Hudson Tunnel Project is part of the overall Gateway Program, the most urgent infrastructure program in America. This project involves construction of a new Hudson River Rail Tunnel, serving Moynihan Train Hall at New York Penn Station and the comprehensive rehabilitation of the existing Superstorm Sandy-damaged North River Tunnel. The existing North River Tunnel was originally built in 1910 and consists of two, single-track, electrified tubes, which serve as the only passenger rail connections between Manhattan, New Jersey and the rest of the NEC.
In coordination with the Gateway Development Commission (GDC), Amtrak and its partners are rapidly advancing the Hudson Tunnel Project toward a funding agreement and the start of construction.
The Hudson Tunnel Project has three major components:
New, Two-Track Hudson River Tunnel (constructed between the Bergen Palisades in New Jersey to Manhattan)
Hudson Yards Concrete Casing, Section 3: A third and final right-of-way preservation section will be built underneath Hudson Yards in New York City. This will eventually allow trains to travel between the new Hudson River Tunnel and the existing New York Penn Station.
North River Tunnel Rehab: The existing tunnel beneath the Hudson River will be rehabilitated.
Just as important to the region and the modernization and expansion of service is the expansion of New York Penn Station – a critical element of the Gateway Program to add track and platform capacity in New York City – and additional Gateway projects in New Jersey: Harrison 4th track, Sawtooth Bridges Replacement and Dock Bridge Rehabilitation.
Procurements:
Active:
Delivery partner (on behalf of the Gateway Development Commission)
Upcoming:
Anticipated construction timeline:
2023: Early construction activity begins
2024: Full construction begins
TBM – Constructing new tunnels, especially in urban areas, presents many challenges. What are the biggest challenges you face in construction of the new tunnels (design, construction, approval, funding)? What hurdles remain?
AMTRAK – As you know, these are complicated projects that often require close coordination across multiple levels of public and private partners. Similar to many major other major construction projects, some of the biggest challenges we face with our tunnel work include:
Environmental permitting approvals
Right-of-way acquisitions and easements
Third party utility removals, relocations and coordination
Potential unforeseen or difficult ground conditions
TBM – The B&P Tunnel project is using the CMAR approach to contracting, which we're seeing more within the tunneling market. What is Amtrak's experience with alternative contracting methods? What are the benefits of using the CMAR approach?
AMTRAK – Amtrak now conducts a robust delivery method analysis for all large-scale construction projects, where we objectively look at how we can best deliver each project. This means there is no "one size fits all" approach. In many cases we'll be using traditional construction approaches – in others, we're deploying alternative delivery models.
For example, the East River Tunnel Rehab Project will be delivered through DBB. But as you mentioned, we're using CMAR in other projects, such as the B&P Tunnel Program and Susquehanna River Bridge Replacement Project (CMAR for construction of the new bridges + DBB for the enabling works).
With the B&P Tunnel, Amtrak will be procuring multiple construction contracts. The "Southern Approach" construction package is the first of three major construction contracts for the program and will be delivered using the CMAR delivery approach.
As we deliver a new era of rail and infrastructure that will last for the next 100+ years, we know it's important to incorporate a variety of construction methods. We anticipate deploying even more projects with alternative models as we seek to leverage the contracting community's support to best help Amtrak deliver on our capital program.
TBM – Are there any other points that you would like to add?
AMTRAK – We are aggressively recruiting, hiring and training new employees to support Amtrak's capital program. This includes talent with a broad range of skills and experience. We recently hired a new Assistant Vice President of Tunnels and Systems that we're excited to be adding to our Capital Delivery team in late April. This addition is another example of the broadening of our overall skill set and internal capabilities to deliver on some of the most challenging projects in our Capital Delivery portfolio.
As these projects ramp up, we're working to generate interest from across the contractor community. In late February, we held an "Industry Day" event for the B&P Tunnel Replacement Program in Maryland. Participation exceeded our high expectations, with over 150 participants, of which over 80% were Disadvantaged Business Enterprises. We will be replicating this approach for other projects and are even more encouraged after the B&P Industry Day. These events allow Amtrak to be completely transparent on the scope of the project and expected timing, all while discussing ideas and engagement methods.
In addition to industry day events, we will also utilize more early engagement with industry via Advance Notices and Industry Requests For Information in our pre-solicitation stages on projects both large and small. Our industry partners will play an integral role in helping us execute these massive infrastructure projects effectively.