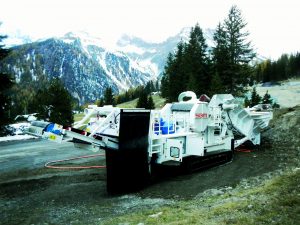 To meet the particular demands encountered during tunnel construction, Austria-based manufacturer SBM has developed solutions that are setting high standards. The mineral processing specialist has designed a powerful crushing plant that has proven its fitness for large-size tunneling projects.
The mobile, track-mounted jaw crusher STE 100.65 TV PB used for the Albula Tunnel construction excels due to its compact dimensions of 19 m length, 2.65 m width, 4.2 m height and a weight of 57.5 tons. The especially low feed height of 2 m allows simple and easy material feed by wheel loader in the tunnel. 
The construction of the 5,860-m long Albula Tunnel is carried out by drill-and-blast. To allow removal of the excavated material by conveyor belts, the pieces of granite/dolomite have to be pre-crushed to 0-150 mm. This challenging task is performed directly in the tunnel by the two SBM crushers on tracks. Then the pre-crushed material is efficiently and economically removed by conveyor belts that are up to 3 km long.
This is no problem at all for the power plants. They are designed for fully electric operation by powerful 132-kW three-phase squirrel cage motor and offer a throughput capacity of up to 250 t/h each.
The power pack is equipped with the single toggle jaw crusher STE 100.65 HBSV mastering material feed sizes up to 700 mm at a material feed opening of 1,000 x 650 mm in the Albula Tunnel. The integrated hydraulic gap adjustment (gap release control) prevents that damage and ensures smooth crushing. The acting forces are measured directly at the crushing jaw. If the predetermined limit value is exceeded the crushing gap opens automatically and resumes the predefined normal position.
To ensure smooth operation of the STE 100.65 TV PB, SBM has installed an apron feeder as well as a special pre-screen with the dimensions 1,500 mm x 1,000 mm that increases the performance of the machine by 30% and ensures constant transportation of the end material.
RELATED: Twin EPBs and Compatible Conveyors Move Muck Below San Francisco
A strong over-band magnetic separator prevents damages to the up to 3-km long belt conveyors in the tunnel and resulting standstills caused by metals parts broken off from machines or similar debris.
The two track-mobile jaw crushers STE 100.65 TV PB at the Albula Tunnel Project, part of the Unesco World Heritage, are helping make the project a success.