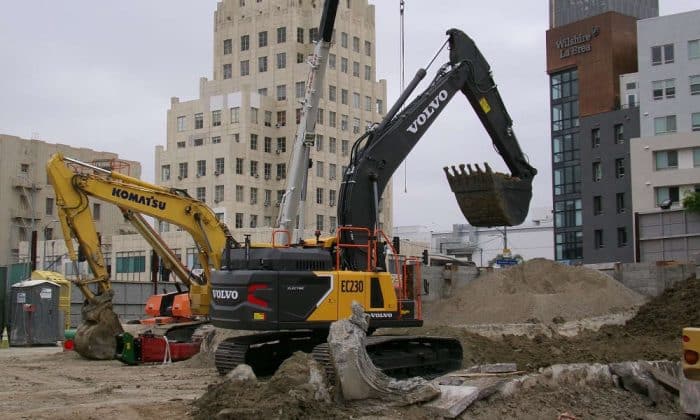 Skanska, a leading construction and development firm, is piloting a zero-emissions electric excavator on Los Angeles Metro's Purple (D Line) Extension Transit Project. The Volvo EC230 is the largest electric excavator of its kind, and it is designed to have the same capabilities as a diesel excavator. Because it is powered by batteries, not an engine, using the Volvo EC230 will lower emissions on the job site and reduce noise during construction.
Skanska is replacing the current diesel-powered Komatsu PC228 excavator with the Volvo EC230 to load trucks of export material from a stockpile at the South Yard of the La Brea Station.
"The construction industry is responsible for forty percent of energy-related carbon emissions," said James Bailey, Executive Vice President of Skanska USA Civil. "Our goal at Skanska is to continue to be a thought leader in sustainable solutions for the construction industry. We have worked with innovation leaders and partners – like LA Metro, Sunbelt, and Volvo – to share knowledge and resources as we work toward net-zero solutions. Participating in this pilot allows us to continue to be a part of the transition to low-carbon, zero-emission construction. Doing so on a large-scale project like the Purple (D Line) Extension Transit Project will provide a unique insight to inform sustainable innovation moving forward."
The goal of this 90-day trial—one of four pilot programs in North America—is to test the success of an electric excavator of this size on a significant megaproject like the Purple (D Line) Extension Transit Project, while further advancing Skanska's mission of reducing embodied carbon emissions.
"Skanska has a strong track record of incorporating green practices and green products into our projects. By piloting the use of the Volvo EC230, Skanska is continuing to take steps to minimize carbon emissions on our jobsites, allowing us to work with LA Metro and other clients to build towards a higher set of green standards," said Mason Ford, Director of Sustainability and Equipment Services Skanska USA Civil. "The use of this large electric excavator on a public transit megaproject adds to our continued implementation of green technologies, moving Skanska towards our global climate targets of net-zero carbon emissions by 2045."
The Volvo EC230 excavator has been launched in Europe, where Skanska has utilized the EC230 on its Slakthusområdet project, and separately in China. The equipment is expected to be available in North America in 2024.