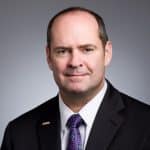 Robert J. Slimp, P.E., has been named chairman, president and CEO of HNTB Holdings Ltd. Slimp has held a number of leadership roles within HNTB since joining the firm in 2005. He continues to serve in his role as chief executive officer for HNTB Corp., a post he has held since 2013.
"Under Rob's leadership, HNTB continues to grow and prosper," said Harvey Hammond, chairman of HNTB's Holding Company. "Throughout his time with HNTB, he has remained dedicated to the HNTB goal of providing outstanding service to our clients and modeling HNTB's values as a company."
Slimp has more than two decades of industry leadership and client service experience on large-scale infrastructure and transportation programs throughout the United States.
RELATED: Zlatanic Named National Tunnel Practice Chair for HNTB
"It is an honor to be appointed to this role," Slimp said. "I share a deep appreciation and respect for HNTB's 103-year-old legacy and look forward to leading the firm's talented professionals in service to our clients."
Throughout his time with the firm, he has been promoted to roles of increasing responsibility, including Austin, Texas, office leader; Southeast Division president; Northeast Division president; and CEO.
Slimp earned a Bachelor of Science in civil engineering from Louisiana State University and Agricultural and Mechanical College.