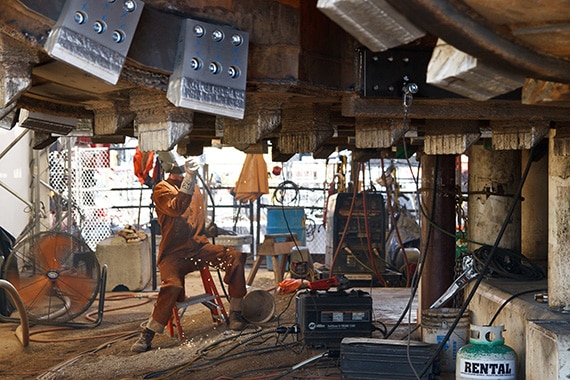 According to the Washington State Department of Transportation (WSDOT) website, Seattle Tunnel Partners (STP), the contractor for the SR 99 tunnel project in Seattle, has revised its schedule, which now projects mining to resume Dec. 23, 2015. The schedule shows the tunnel opening date as April 2018.
/**** Advertisement ****/
The 57.5-ft diameter TBM, known as Bertha, was stopped on Dec. 6, 2013, after mining about 1,000 ft of the 1.7-mile alignment. Repairs and renovations to the machine were completed by the contractor, requiring the construction of 120-ft deep rescue pit. Crews were able to move the machine into the pit for disassembly and repair. As of Oct. 14, STP and TBM manufacturer Hitachi Zosen were reassembling the machine.
In the meantime, WSDOT announced that it has filed suit again STP. According to WSDOT: "This filing was prompted by recent court filings by STP and their insurance companies. Filing this lawsuit ensures WSDOT will have a right to make legal claims in the future. This lawsuit does not prevent STP from pursuing claims under the terms of the design-build contract. Taking action to preserve WSDOT's rights in court was a necessary step. Our focus remains on completing the project, and removing the seismically vulnerable Alaskan Way Viaduct. We intend to ask for a stay of WSDOT's lawsuit until the project is completed and asked STP to join us in this request. This delay in the lawsuit will allow for work on the SR 99 Tunnel Project to be completed before litigation takes place."