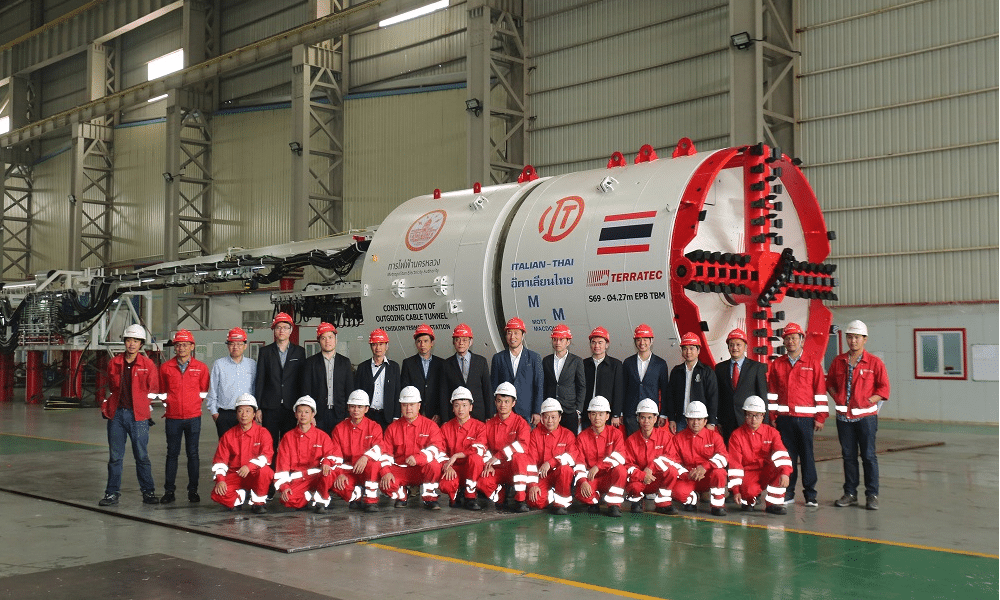 At the end of April, TERRATEC celebrated the successful Factory Acceptance Test of a new 4.27-m diameter earth pressure balance tunnel boring machine (EPBM) destined for the Chidlom Cable Tunnel Project in Bangkok, Thailand. The event was attended by representatives of Bangkok's Metropolitan Electricity Authority (MEA) and contractor Italian-Thai Development PCL (ITD).
Designed to accommodate a new high-voltage cable system, the Chidlom Cable Tunnel Project is one of a series of tunneling projects being undertaken by MEA, which are being built to meet increased power demands in the Thai capital.
Running from the Central Embassy mall and MEA's Chidlom Electrical Facilities southward to Lumphini Park, the project is located in one of the busiest and most built up areas of downtown Bangkok, and is subject to tight alignment constraints including the need to carefully navigate the foundations of the Chit Lom BTS Skytrain Station. To achieve this, the TERRATEC EPBM was designed with an extreme X-type articulation system, which can accommodate very tight radius curves.
"We have worked closely with TERRATEC on a number of projects in the past and were keen to work with them again," says Supak Khunviriya, Project Manager for ITD. "TERRATEC has past experience of similar projects with tight radius curves in Bangkok and the TBM has been designed to achieve a high level performance in difficult circumstances."
The TBM's soft ground cutterhead features an open spoke design with the addition of knife bits to assist break-in and break-out of the concrete shaft eyes. Universal tapered precast concrete segments will typically be installed as the machine progresses, with shorter steel segments used during the course of the sharp radius curves.
RELATED: TERRATEC TBM Sets New Standard in Instanbul
Geological conditions along the 1.35-km tunnel alignment consist of stiff to very stiff clay with lenses of sand and a groundwater head of about 2 bars.
Due to heavy traffic and the physical limitations of this built-up area – which includes numerous high-rise buildings and the skytrain viaduct – logistics during the launch and operation of the TBM will be extremely challenging, especially during the transportation and delivery of oversize TBM parts for assembly at site. TERRATEC's highly-experienced Field Service staff have therefore been working closely with ITD from Day 1 in order to ensure every aspect is planned in advance.
"We have great faith in TERRATEC's staff, who will assist us throughout the tunnel construction stage," says Khunviriya. "There has been a close collaboration and exchange of information with TERRATEC since the tender stage."
Following the successful factory acceptance test, the machine will be now shipped to Thailand and is expected to arrive in early-May. The TBM will then be transported to the project site and lowered down the main shaft in a carefully planned operation that will take place in a single night.