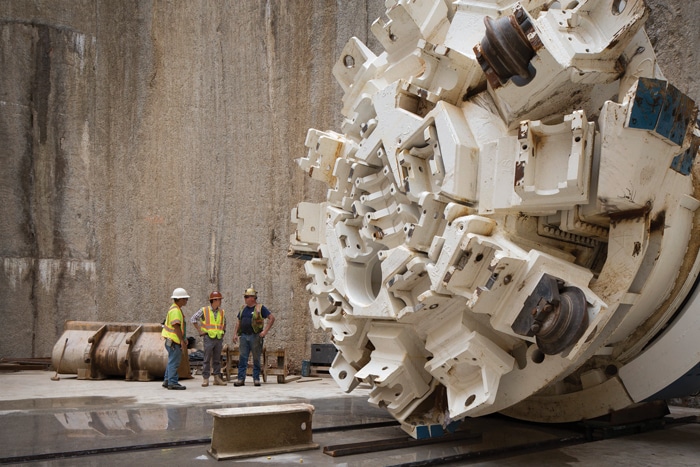 Tunneling for the Kaneohe/Kailua Sewer Tunnel, the City and County of Honolulu's largest sewer project, has been completed, KHON reported on its website. Boring of the 3-mile long tunnel was completed in 13 months, according to the report.
This $173 million project for the City and County of Honolulu, Department of Design and Construction, Wastewater Division consists of 16,338 lf of tunnel (1,388 lf tunnel via roadheader, 14,950 lf of TBM Tunnel). The tunnel diameter is 13 ft with a 10-ft ID glass fiber reinforced pipe. The project includes two slurry wall shafts: one 87-ft diameter, 95-ft deep launch shaft (Kailua Site) and one 30.5-ft diameter, 54-ft deep receiving shaft (Kaneohe Site). Ground conditions are basalt.
The contractor is a joint venture of Southland and Mole. Crews used a Robbins Main Beam TBM that was originally built in 1992 and refurbished at its Solon, Ohio, manufacturing facility. Wilson Okamoto Corp. was the lead designer with McMillen Jacobs Associates serving as the tunnel designer. Subcontractors included Layne Christensen Co., J.F. Fowler and Brierley Associates.
RELATED: Building Hawaii's Longest Tunnel
The Kaneohe-Kailua Wastewater Conveyance Tunnel project fulfills requirements of the Consent Decree between the City and County of Honolulu and the U.S. Environmental Protection Agency, increasing the reliability of the Windward Oahu sewer system. This project will install a new 3-mile long tunnel from the Kaneohe WWPTF to a new Kailua Tunnel Influent Pump Station (TIPS) at the Kailua RWWTP. Per the Consent Decree, the project is to be operational on or before June 30, 2018.
Crews will next install 10-ft diameter Hobas pipe inside the tunnel and grout it in place.