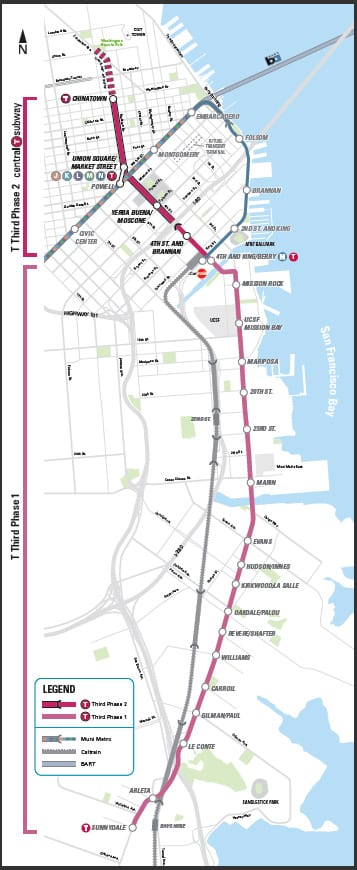 SFMTA in May awarded the contract to construct the Central Subway's stations, train tracks and operating systems to California-based firm Tutor Perini. Tutor Perini's bid of $840 million was the lowest of three bids received for the contract, SFMTA Contract No. 1300, the largest and final major construction contract for the Central Subway Project.
After review, SFMTA determined that the bid meets contract solicitation requirements and recommended approval. The SFMTA Board of Directors then voted unanimously to approve the award.
With 25 percent of the contract amount going to certified Small Business Enterprise (SBE) firms, Tutor Perini significantly exceeded the SBE participation goal of 20 percent. In addition, Tutor Perini will set aside at least 50 percent of the contract's trucking and hauling work for certified SBE firms, invest at least $1.5 million in hiring socially and economically disadvantaged individuals for entry-level jobs, and provide socially and economically disadvantaged individuals with at least 40,000 hours of on-the-job training for construction management positions.
Under Contract 1300, Tutor Perini will construct the following elements of the Central Subway:
The Chinatown Station, a subway station with an entrance at Stockton and Washington streets;
The Union Square/Market Street Station, a subway station with entrances at Stockton and Geary streets and Stockton and Ellis streets;
A concourse connecting the Union Square/Market Street Station to the existing Powell Street Muni/BART Station;
The Yerba Buena/Moscone Station, a subway station with an entrance at 4th and Clementina streets;\
The 4th and Brannan Station, a surface-level station on 4th Street between Brannan and Bryant streets;
Surface tracks on 4th Street between 4th and King streets and the subway tunnel portal on 4th Street between Bryant and Harrison streets;
Trackbed, tracks, switches and train control systems within the Central Subway tunnel.
Substantial completion is expected in the second quarter of 2018 with with the Central Subway scheduled to open in 2019.