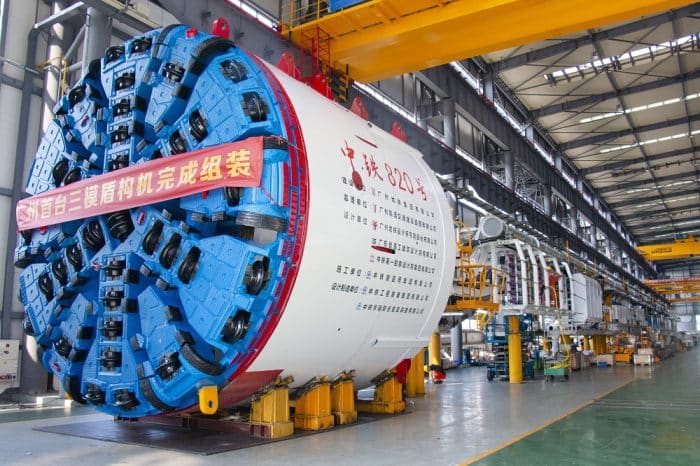 The International Tunnelling and Underground Space Association (ITA) recently unveiled the shortlist of finalists for the 2023 Tunnelling Awards. The sewage interception pipe project in Macau New Port Area that was excavated by CREC 1076 entered the category "Project of the Year incl. Renovation" (with a Budget up to 50 M€) and the Guangzhou Metro Line 7 Phrase II project that was excavated by CREC 820 entered the category "Product/Equipment Innovation of the Year."
CREC 1076 is the smallest diameter (Φ3.38m) EPB TBM made by China Railway Engineering Equipment Group Co., Ltd. (CREG for short), whose overall length is approximately 190m and total weight is approximately 396t. It has been applied in the construction of a sewage interception pipe with an ID of 2m between the reclamation area in Macau New Port and the sewage treatment plant in Areia Preta. In order to adapt to the minimum curve radius of 50m, the machine adopts a spherical articulation. It also uses a pumping method to discharge muck through the wholly sealed pipelines, which improves the construction efficiency and environment. This is the first time for CREG to enter into the Macau market and also the first project constructed by the TBM in Macau.
CREC 820 made by CREG is the first three-mode TBM in China that integrates slurry mode, EPB mode and hard rock mode, whose excavation diameter is 6.25m. With an excavation length of 1086m, the machine is applied to bore the section between the Luogang station and Shuixi station of Guangzhou Metro Line 7 Phrase II project where full face hard rock strata, soft soil strata, upper soft and lower hard strata are densely distributed. To flexibly overcome complex geology and greatly reduce the safety risk, this TBM integrates the rock breaking function of the cutter head of hard rock TBM and anti-roll function of shield structure on the basis of existing dual-mode TBM (slurry & EPB mode). Therefore, it has three advance modes and three muck discharge methods, which solves the problem of integrating multiple advance modes on the 6m-class small diameter TBM. In addition, this TBM features two advantages: the first is rapid mode switch, which means that three advance modes can be switched easily by operators in the control cabin based on different strata without entering the excavation chamber and thus avoiding risks arisen from long-time mode switch operation; the second is muck discharge collaborated by screw conveyor and slurry pipeline, which can solve the discharge problem of water, muck and large rocks in the strata.
Click here to see the full list of finalists.