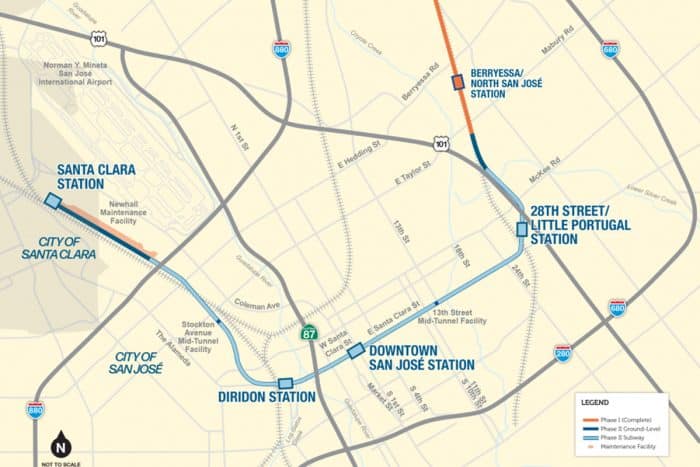 The Valley Transportation Authority (VTA) reached a major milestone with the purchase of the tunnel boring machine (TBM) that will dig the tunnel for the BART Silicon Valley Phase II Project (BSVII). The tunnel will contain 5 miles of train tracks in both directions and three station platforms to provide safe and efficient travel separated from congested roadways.
This $76 million TBM will be one of the largest machines ever to be built. Multiple payments will be made to the manufacturer at key milestones of design, production, delivery, assembly, and launch of the TBM. VTA will be launching a TBM naming contest in advance of the TBM arrival.
The TBM will be nearly 54 ft in diameter and is being specifically designed and built to meet this project's unique characteristics and requirements. The size of the tunnel was determined by the space needed for the tracks, trains, boarding platforms and other equipment and facilities needed in the tunnel to operate safely and efficiently. Massive cement tunnel lining segments will be installed as soil is removed to create the structurally sound tube underground.
The thickness of the tunnel lining is based on the pressure from the soil and water surrounding the tunnel and important safety requirements in the event of an earthquake. The inner diameter of the tunnel will be 48 ft and the exterior of the tunnel will be just under 52 ft.
VTA's TBM for the project will be the third largest TBM ever built. The largest TBM, Tuen Mun-Chek Lap Kok in Hong Kong, was 57-ft, 10-in., and the SR 99 TBM in Seattle was 57-ft, 3-in. For comparison the BART Transbay tunnel interior is 17 ft, the LA Metro Purple Line is 21.5 ft, and NY Second Avenue Subway is 22 ft.
Manufacturing of the TBM
The TBM will be purchased from Herrenknecht. Herrenknecht will design, manufacture, assemble, test, and then disassemble the TBM at its factory in Schwanau, Germany. The TBM will be uniquely designed to operate in areas with higher water tables and the geology of sands, gravel, silts, and clays in the South Bay.
Approximately 18 months after manufacturing begins, the TBM will be shipped from Kehl, Germany, across the ocean to California to be reassembled on-site at the West Portal, located at the future Newhall Yard. Reassembling the TBM will take approximately 6 months on-site before it is ready to be launched.
The TBM will launch at the West Portal and will dig 30 to 40 ft each day traveling east toward the Berryessa/North San Jose BART Station, taking approximately 3 to 4 years to complete the 5-mile long tunnel. Once tunneling is complete, the TBM will emerge above ground at the East Portal on the east side of US 101 near Las Plumas Avenue. Once it reaches the surface it will be disassembled, and the remaining parts and material are planned to be reused to the extent possible.
RELATED: VTA Board Approves First Major Contract of BART Extension to Downtown San Jose/Santa Clara