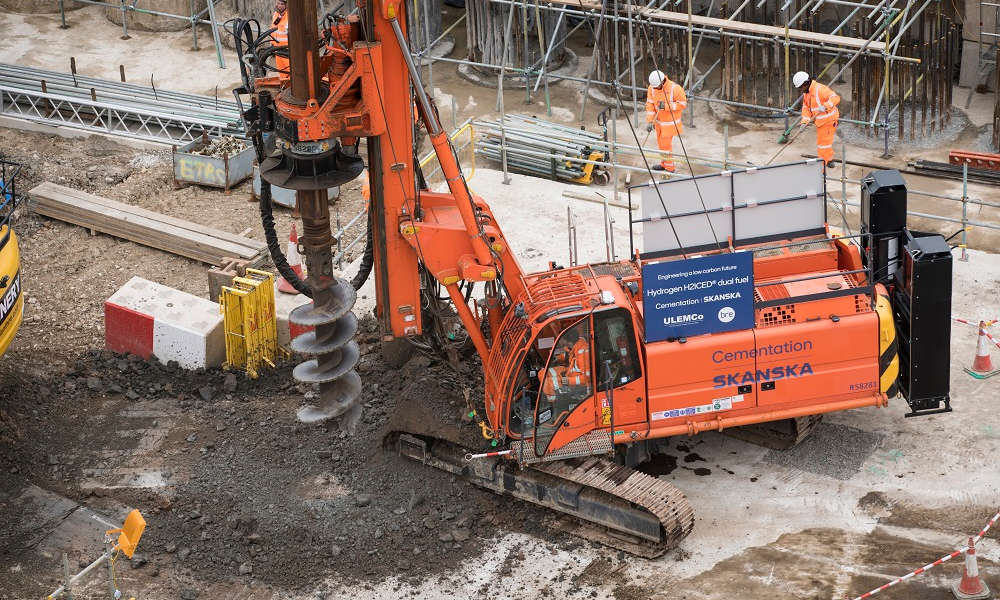 HS2 has taken a further step forward in decarbonizing the constructure sector, completing a world first by installing four 30-m deep piles on a London site using a hydrogen dual-fuel piling rig.
The trial took place as part of work done in partnership by ULEMCo and Cementation Skanska, working with the world-leading Business Research Establishment (BRE), funded through the BEIS Phase 1 Red Diesel Replacement competition.
ULEMCo and Cementation Skanska successfully modified a medium sized CFA piling rig, converting it so that the machine component operated using energy from on-board hydrogen tanks. Using the dual-fuel system, both diesel and biofuels (HVO) can be mixed with hydrogen, displacing the fuel with hydrogen, resulting in a reduction in fuel use and lower CO2 emissions.
Following successful yard trials simulating the technology, the rig was brought onto a HS2 site in London where it has successfully completed piling works for HS2, demonstrating that the dual-fuel adaptation can be applied more widely across the construction sector supporting the decarbonization of plant and machinery.
The successful trial is one of several initiatives being undertaken by HS2 in its commitment to decarbonising construction sites and achieving completely diesel-free sites by 2029. To date, 19 HS2 sites operate entirely diesel-free.
Speaking about the success of the dual-fuel piling rig on a HS2 site, Andrea Davidson, Head of Environmental Sciences for HS2 Ltd, said:
"HS2 is continuing to drive a positive change in the construction sector and is providing an important environment to develop the real-world use of hydrogen energy technology.
"The development of dual-fuel systems that can be used to adapt existing equipment so it can run off cleaner, low carbon energy sources, could be a game changer across the construction sector."
Now that it has been shown that the technology can work in a real-world scenario, ULEMCo and Cementation Skanksa are looking at how this technology can be used more widely, reducing embodied carbon in construction and reducing impacts on local communities near construction sites.
Terry Muckian, Managing Director, Cementation Skanska said:
"Using this rig in a real-world environment to install piles on a commercial site is an exciting milestone. It follows the success of the simulated trials last year and is the next step towards rolling the technology out more widely.
"This project goes beyond piling and ground engineering, it provides proof of concept for converting other types of heavy construction equipment, paving the way to construction site decarbonization."
Amanda Lyne, Managing Director of ULEMCo said:
"The machines used in construction are owned and used for many years, so demonstrating a decarbonization solution that utilizes these existing assets is not only cost-effective but also important for sustainability."
HS2 is Britain's new high speed rail line being built from London to the North-West, with HS2 trains linking the biggest cities in Scotland with Manchester, Birmingham and London. It is the largest infrastructure project in Europe and the most important economic and social regeneration project in decades.