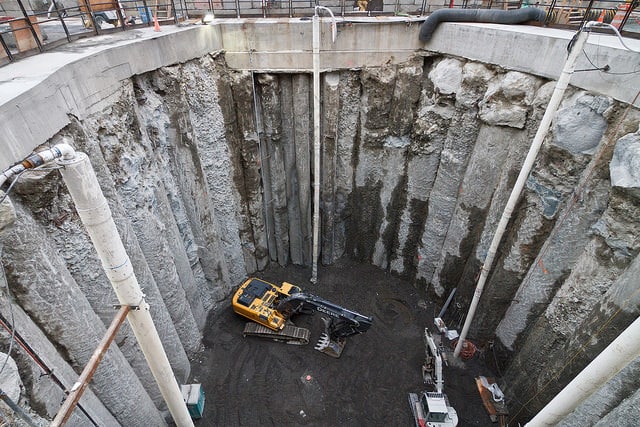 The Washington State Department of Transportation (WsDOT) on Dec. 22 announced that it has changed its estimated date for resumption of tunneling on the SR 99 project to April 2015, one month later than was anticipated when the plan to repair the stalled 57.5-ft diameter TBM was introduced last April. Additionally, WsDOT anticipates the tunnel opening to traffic in August 2017. The original estimate for tunnel opening was December 2015 and was revised to November 2016 following the stoppage.
The project has been stalled since December 2013 due to mechanical issues with the TBM, which had mined 1,000 ft before being stopped.  Crews have been constructing a large-diameter pit to access the machine and allow for the replacement of the main bearing and other TBM modifications.          In addition to the mechanical issues, concerns over ground settlement possibly related to the access pit dewatering caused another brief stoppage. Settlements of approximately 1 in. were discovered in November , leading WsDOT to briefly stop excavation. However, settlement levels near the SR 99 tunnel access pit have remained stable since Nov. 24 and excavation resumed. Crews have excavated 90 of the 120 ft needed to access the TBM.
According to WsDOT, some ground settlement was predicted due to dewatering, but the settlement measured was greater and farther reaching than anticipated. Engineers are still evaluating whether other factors are involved that could explain the discrepancy. WsDOT continues to conduct daily inspections of the viaduct and watch the survey data closely as the contractor – Seattle Tunnel Partners (STP) moves forward with their work.
The $2 billion SR 99 project comprises a two-mile long tunnel under downtown Seattle to replace a viaduct that was damaged in the 2001 Nisqually earthquake. Tunneling, using the largest TBM built to date, began in summer 2013.