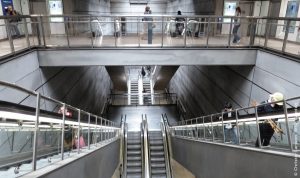 To ensure that the network remains one of the best public transportation systems in the world, WSP is advising Copenhagen Metro on asset management best practices and performing an impartial Condition Assessment.
The Copenhagen Metro has been in operation for 15 years and is known for high service availability and customer satisfaction. The network has two lines and 22 stations, and is used by 180,000 people daily.
RELATED: WSP/PB Names Haq as Senior Engineering Manager
WSP is assessing the condition of Traffic Management Systems, Station Constructions, Building Installations, Traction Power Supply and Rolling Stock. The assessment involves determining the condition of the assets, estimating their remaining useful life and proposing how they can last longer based on knowledge from similar projects around the world. Furthermore, WSP is providing the client with insights on how to achieve an overall strategic approach to asset management.
The project team draws on our global expertise with team members from Sweden, Denmark and the UK, and is led by Axel Crona and Lorenzo Gallosti from WSP's Global Rail Advisory in Stockholm, Sweden.
RELATED: WSP | Parsons Brinckerhoff Rebranding as WSP