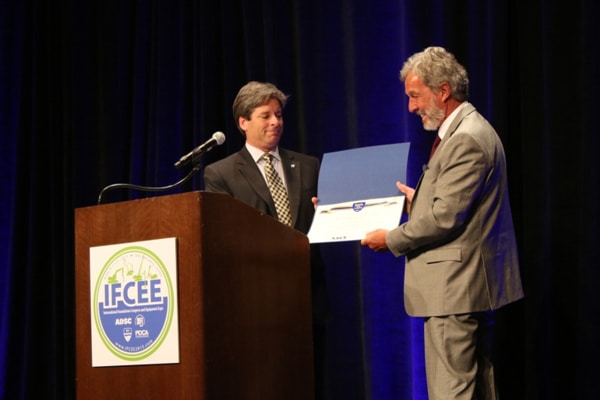 For more than 50 years, the Karl Terzaghi Lecture has been given by an individual honored for his exemplary contributions to the field of geotechnical engineering.  Donald A. Bruce, Ph.D., D.GE, C.Eng., L.G., L.E.G., P.G., M.ASCE, President, Geosystems, L.P., was selected by the Geo-Institute Board of Governors as the 2015 Terzaghi Lecturer. The Lecture, titled The Evolution of Specialty Geotechnical Construction Techniques: The "Great Leap" Theory, was delivered at the International Foundations Congress and Equipment Expo (IFCEE) on March 17, 2015, at the JW Marriott in San Antonio, Texas.
The award citation reads: "For his passion and insights in shaping the way we solve practical problems in the geo-design industry, by expanding our understanding and application of technologies such as anchors, micropiles, grouting, deep mixing methods and diaphragm walls."
The presentation was delivered to over 1,200 attendees, and has been made available for general information at www.geosystemsbruce.com.