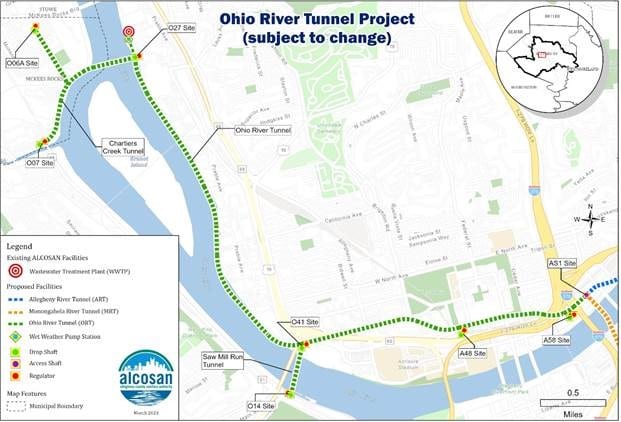 Allegheny County Sanitary Authority (ALCOSAN) will host a contractor outreach event for the Ohio River Tunnel project and wet weather pump station shaft on Aug. 17.
Regional, local, and MWDBE contractors are strongly encouraged to attend.
ALCOSAN must deliver a regional tunnel system to control combined sewer overflows (CSOs) as part of a consent decree with the EPA. The tunnel system encompasses three major tunnel projects: the Ohio River Tunnel project (3.8 miles of 18-ft in diameter and 1.1 miles of 14-ft in diameter), the Allegheny River Tunnel project (6.2 miles, 18-ft in diameter), and the Monongahela River Tunnel project (5.4 miles, 18-ft in diameter). These improvements are slated to be complete by the end of 2036. ALCOSAN's $2-billion Clean Water Plan also involves other components, including a treatment plant expansion program and the design and construction of a new wet weather pump station at the downstream end of the tunnels.
For detailed event information and to register visit, click here, or email: ORT@ALCOSAN.org