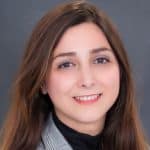 Aldea Services LLC announced that Hiva Mahdavi, PhD, PEng, has been ap-pointed as a Senior Tunnel Engineer/Project Manager for the Aldea office in Toronto. Mahdavi brings more than a decade of international engineering and tunnel design experience to her new position, with a special interest in geotechnical design.
Mahdaviw's proven ability to manage, design and deliver transit and utility tunnel projects utilizing best practice methodology for the conditions makes her an invaluable asset to the Aldea team. In fact, one of her most recent projects for the city of Calgary was named winner of the NASTT NW Project of the year competition in 2015 and winner of the award of excellence in Consulting Engineers of
Alberta in the Category of Sustainable Design in 2016.
"Hiva's experience, talent and depth of knowledge are being put to very good use with the variety of our Aldea projects in Canada," Aldea Senior Vice President Bob Goodfellow said. "Her specialization in geotechnical modeling and her ability to lead a design team through complex project conditions make Hiva a very special person for us to add to our team."
Mahdavi's path into the tunneling industry has been unique, and includes analysis of pipe-soil interaction, geotechnical investigation, and design of tunnel and underground excavation.
"What I love about tunneling is that it has both geotechnical and structural elements to it because of the way ground and structure interact with each other," she said. "The complexities and challenges of each project are quite unique. It takes a great team to make it all work and what I love about Aldea is that every single person is a good technical resource."
RELATED: Rebecca Trunk Wastewater Main Wins Project of the Year