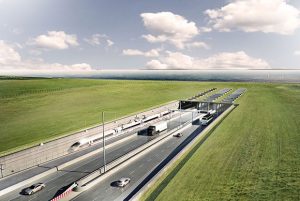 Arup, in joint venture with Rambøll and Tunnel Engineering Consultants (TEC) will provide consultancy services and technical support for the construction of the world's longest immersed tunnel for road and rail of its kind, the Fehmarnbelt Fixed Link.
Contracts have been signed with Femern A/S, the Danish state-owned company responsible for the planning of this international infrastructure project.
The tunnel will connect Rødbyhavn in Denmark with Puttgarden in Germany. It will be the world's longest road and rail tunnel under water, with a four-lane motorway and a two-track railway. The length of the immersed tunnel will come to 18 km and the tunnel depth will be more than 40 m below sea level at its deepest point.
This immersed tunnel solution is an excellent example for innovative design, as it challenges existing tunnel building standards. A pioneering longitudinal ventilation system and state-of-the-art safety and security features improve the overall functionality of the construction.
RELATED: Arup Team Wins Major HS2 Contract
The Rambøll-Arup-TEC joint venture has supplied multidisciplinary planning services from preliminary design through to the preparation of tender documentation, including conceptual and illustrative design and will now provide consultancy services and technical support for the construction phase. Building works are expected to start as soon as the German planning approval has been granted.
"When it comes to building the world's longest immersed tunnel, quality should be 'best in class' and we have no doubt that this is what our consultants will deliver. Their role will be to advise and challenge, so that we achieve the best possible solutions," said Henrik Christensen, Technical Director, Femern A/S.
"We are pleased to continue working on the world's longest immersed tunnel of its kind, for which our involvement commenced in 2009. Arup has a great global tradition in large infrastructure projects, and in Denmark specifically, on the Oresund Link to Sweden and now this landmark tunnel to Germany," said Sandra Akmansoy, Director, Arup Denmark.
RELATED: Vinci Consortium to Build Fehmarnbelt Tunnel