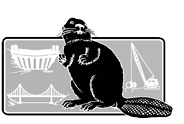 Michael Traylor of Traylor Bros. Inc., 2017 President of The Beavers, has announced the selections for the 2018 Golden Beaver Awards, which will be presented at the 63rd Annual Awards Dinner to be held Friday, Jan. 19, 2018 at the J. W. Marriott at LA Live in Los Angeles.  The guest speaker at the event will be Purdue University President Mitch Daniels.
The Management Award will be presented to Riley P. Bechtel of Bechtel Corp. He is the third consecutive generation of his family to receive this award, following his father, Stephen D. Bechtel Jr. (1992) and his grandfather, Stephen D. Bechtel Sr. (1963). Riley started his career with Bechtel in 1966 working summer jobs while attending school. After receiving a combined MBA and JD from Stanford University's Law School and Graduate School of Business, he worked as an attorney for several years before joining Bechtel in 1981. He served in a variety of positions ranging from field superintendent to business development to managing director before being named president and chief operating officer in 1989, adding the chief executive title in 1990 and chairman in 1996. During his tenure, Bechtel generated more than $500 billion in revenue, an increase of over 600 percent.
Alfonso "Al" Gonzales of Guy F. Atkinson Construction LLC, will receive the Supervision Award. A civil engineering graduate of the University of New Mexico, he began his 43-year-career, all with Atkinson, in 1974 as a field engineer on the Lower Granite Dam and Powerhouse in Washington state. He progressed through superintendent and project manager positions with steadily increasing responsibility for major projects. During his career, Al has managed over $3 billion in heavy civil construction projects, including over $650 million of design-build transportation projects.
RELATED: The Moles' 2018 Award Winners
The Engineering Award will be presented to Dan A. Brown of Dan Brown & Associates PC, an expert in the design of deep foundations. After earning a BS and MS in civil engineering from Georgia Tech, followed by a PhD from the University of Texas, Dan joined the faculty of Auburn University, where he became one of the premier experts in deep foundation design, construction and testing. During this time he formed Dan Brown & Associates PC, to provide consulting services. In 2009 he left academia to devote his full attention to the high demand for his expertise.
Mark E. Reagan of Marsh USA Inc. is the winner of the Service/Supply Award. A graduate of Fordham University, he began his career as an underwriter for Seaboard Surety in New York. After four years he was posted to London to manage the firm's U.K./Europe operations. He returned to the United States in several senior executive positions before being named president of AIG's worldwide bond division. In 1993 he transitioned from the carrier to brokerage side of the business, serving as Chairman and CEO of Willis' (now Willis Towers Watson) Construction Practice. In 2010, he was named Chairman of Marsh Inc. U.S. Construction Practice. Mark has a reputation as an innovator of new insurance products, including products addressing the unique challenges of Public Private Partnerships.
RELATED: Tunnel Achievement Award Presented at Breakthroughs in Tunneling Short Course