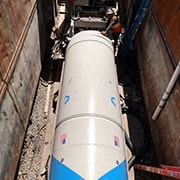 Brannan Construction Co. recently used a Series I and Series II TBM from Akkerman Inc. to install two storm sewer alignments in close proximity on the North Meadows Extension project in Castle Rock, Colorado.
The Series I TBM 48SC with an increase kit was used for 170-lf of 42-in. ID RCP under the six-lane I-25 interchange. On the second drive, a Series II TBM 540 installed 97-lf of 54-in. ID RCP under a BNSF railway line and the US 85 interchange. Both TBMs were paired with an all-in-one tunnel boring system and 5000 Series Pump Unit. Since the same soft geological profile was expected on the two bores, both machines were equipped with a single bar dirt carbide cutter face.
The contractor's crew supervisor, Al Luna, noticed the machines' key distinguishing points during this side-by-side comparison. Luna stated, "The most noticeable difference that you discover the first time you operate the Series II TBM is how quiet it is. The Series I machines require hearing protection. With the Series II, it was possible for the TBM and haul unit operators to still have conversations while tunneling, without hearing protection."
One of the most significant upgrades on the Series II TBM is its improved, high-torque, tri-roller bearing drive system. The oil bath, sealed bearing with a ring and pinion drive makes for much quieter and more efficient operation over the former inner drum, gear ring to sprocket drive system. The new machine offers 40% more force on the cutting tools, making it more conducive to hard geology.
Luna further commented that, "The bi-directional capability of the cutting head is a major productivity improvement. The fact that any shield rotation can be corrected by reversing the cutting head direction, while still being able to progress the tunnel, is a major improvement."
The Series II TBM has a bearing cutter drive for full and precise TBM articulation, high-torque motor capabilities, and improved hydraulic controls while maintaining several of the original models' finer points.
Its bearing cutter drive allows for clockwise and counterclockwise movement thus giving operators superior handling over the TBM's roll inclination. The former model was capable of cutting in a clockwise direction only. This bi-directional cutting feature facilitates extended cutter face wear.
The Series II TBM features a three-point hydraulic-controlled steering system for ease in maintaining line and grade. Series I TBMs required hydraulic and manual adjustments for line and grade steering corrections.
The operator's station features pilot operated valves for the cutter drive, conveyor and TBM jacking can controls vs.  the original model's manually shifted valves. Operators appreciate the smooth, effortless actuation of these pipe jacking functions with the pilot valves.
The Series II TBM drive system uses two-speed drive motors which allow for operation in either low-speed/ high-torque or high-speed/low-torque modes. This functionality allows operators to precisely tailor cutting speeds and torque in varying geology. When a Series II machine is coupled with the dual pressure and flow capabilities of the tunnel boring system's 5200 pump unit, numerous cutter torque and speed combinations can be realized, for ultimate control in changing ground conditions.
Quality features from the original TBM that have been retained on the current model are its face access capability, torque wings for anti-roll, and hydraulic operations along with compatibility with all ancillary equipment.
Standard Series II TBMs are available in 48-94.5-in. (1,219 – 4,267 mm) OD and can be customized to suit project needs.