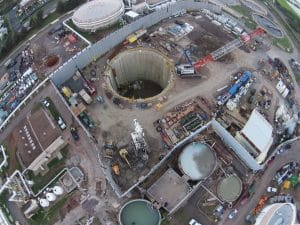 CH2M and Parsons, as part of a joint venture team, have been selected by the District of Columbia Water and Sewer Authority (DC Water) to perform program management services for the development and implementation of DC Water's capital improvement program (CIP)—a $1.3 billion water and wastewater infrastructure program focused on repair and replacement of mostly underground infrastructure in Washington, D.C., and neighboring jurisdictions.
The three-year contract, with options for renewal up to two years, combines two separate program management contracts into one large program – providing greater efficiencies in delivery and cost. The CIP includes the planning, design and construction of linear and vertical infrastructure in the water and wastewater service areas, including piping, pumping, storage and other appurtenance structures, such as hydrants, valves, inflatable dams, diversion structures and manholes. The program includes rehabilitation or replacement of small- and large-diameter water mains; rehabilitation of water, sanitary and storm pumping stations; rehabilitation of minor and major sewers and storage facilities; and condition assessments of water and wastewater buried infrastructure, pumping stations and storage facilities.
RELATED: Microtunnel Project Overcomes Macro Challenges DC Water's First Street Tunnel
"CH2M has worked with DC Water for many years on capital improvement projects and most recently has been leading the utility's Asset Management Program," said Peter Nicol, CH2M Global Water Business Group President. "Aging underground infrastructure is a national problem and leads to disruptions in service and threatens water quality. We are excited to help DC Water tackle the complicated repair and replacement of its aging underground water and wastewater infrastructure to ensure local communities have access to safe drinking water and sanitation systems."
Michael Walsh, Parsons Group President, added "Our team looks forward to working collaboratively with DC Water on this major program that will significantly benefit the DC community. We too have worked with DC Water on numerous projects, including the Blue Plains Advanced Wastewater Treatment Facility and the DC Clean Rivers Project."
Repair and replacement strategies are complicated in dense urban areas with complex underground infrastructure, and therefore must be coordinated carefully with a wide variety of stakeholders. As the CIP program manager, the CH2M/Parsons JV team will also help DC Water coordinate with stakeholders throughout Washington, D.C. neighborhoods.