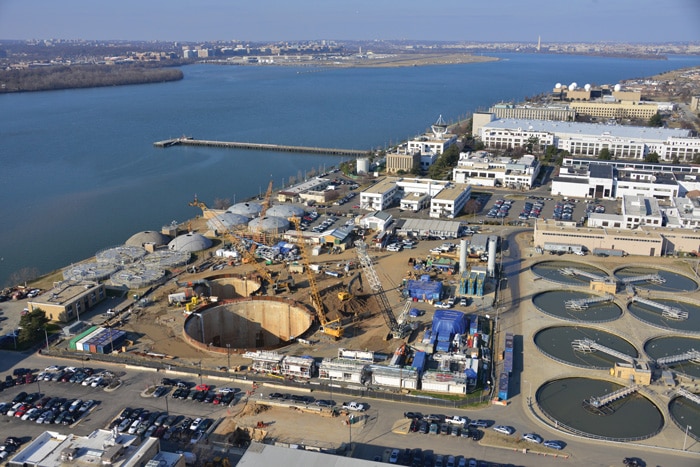 As part of ongoing improvements and to address a federally mandated decree, DC Water is implementing the $2.6 billion Clean Rivers Project to clean the Potomac, and its tributaries the Anacostia River and Rock Creek. The projects will reduce CSOs by 96 percent.
The first phase (Anacostia River Projects) is underway and involves constructing a massive underground tunnel system to store and convey captured combined sewage during intense storms, preventing most combined sewer overflows to the Anacostia River. These overflows will be reduced by 98 percent when the tunnel system is completed in 2022. The later phases will address overflows to the Potomac River and Rock Creek.
In total, there are approximately 13 miles of 23-ft ID concrete lined storage and conveyance tunnels, shafts, diversion chambers, overflow facilities, a dewatering pumping station and a replacement sewage pumping station.
Some of the major tunnel projects include:
Anacostia River Tunnel
The Anacostia River Tunnel consists of approximately 12,500 ft of 23-ft in diameter and located approximately 100 ft underground. The project includes the following elements: Six drop shafts located along the alignment to deliver captured CSOs to the tunnel and serve as access points for system maintenance (diameters vary from 15 ft up to 75 ft); Installation of three diversion chambers along the tunnel; and ventilation control facilities installed at the shafts.
A $253 million design-build contract was awarded to Impregilo-Healy-Parsons JV in June 2013. Estimated construction completion is January 2018.
Blue Plains Tunnel
The Blue Plains Tunnel consists of 24,300 lf of 23-ft ID tunnel along with the construction of 132-ft diameter dewatering shaft which will house a 250 mgd pumping station to dewater the tunnel system and a 76-ft diameter screening shaft at the Blue Plains Advanced Wastewater Treatment Plant.  The two shafts also serve as main access point for the tunnel construction. Also included are: construction of 55-ft diameter drop shaft at the Main Pumping Station to serve as terminus point for the Blue Plains Tunnel construction; construction of a 50-ft diameter drop/overflow shaft at Joint Base Anacostia Bolling (JBAB); and construction of a 55-ft diameter junction/drop shaft at Poplar Point Pumping Station.
A $330 million design-build contract was awarded to a joint venture of Traylor/Skanska/Jay Dee JV in 2011. This project is substantially complete.
First Street Tunnel
The construction for the First Street Tunnel includes about 2,700 lf of 18.5-ft ID tunnel approximately 80 to 160 ft deep; three drop shafts, three adit connections, four diversion chambers, and a 6 mgd pumping station housed in a fourth below-grade shaft. The four shafts range from 20 to 65 ft. in diameter with invert depths ranging from 100 to 160 ft below the ground surface. The three adits range from 20 to 400 ft. in length and are 8 to 10 ftID. The invert depths for the diversion chambers are 25 to 35 ft below the ground surface.
A $157 million design-build contract was awarded to a joint venture of Skanska-Jay Dee in October 2013. Completion is scheduled for 2016.