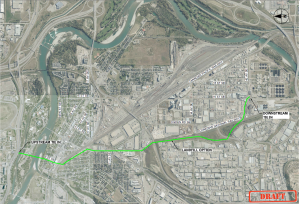 The City of Calgary, Alberta, Canada, has begun the prequalification process for its Inglewood Sanitary Trunk project. The City has issued a Request for Qualifications (RFQ) for a general contractor (GC), and potential microtunneling subcontractors
The Inglewood Sanitary Trunk will provide additional wastewater capacity needed for projected flow from existing and future development as well as population growth in the area.
The project consists of trenchless installation of approximately 3,350 m of 2,400-mm ID sewer and approximately 400 m of open-trench construction. The project also includes construction of sealed shafts, connections to existing trunk systems at two locations, relocation of utilities and restorations.
RELATED: 1,850-ft Microtunnel Completed for NEORSD
Notable features and constraints of the project include:
-Construction is generally through a mature residential, commercial and industrial neighborhood;
-Construction crosses major arterial roadways and rail tracks;
-Construction crosses major existing underground conveyance systems; and,
-Sewer depths vary from 1 m to 13 m below grade.
More information is available on the city website. The City contact is Phillip Lawrence, plawrence@calgary.ca . Responses must be submitted electronically on the MERX portal online.
The deadline to submit an RFQ is Jan. 9, 2018.
RELATED: 24th Annual Microtunneling Short Course Sets New Standard