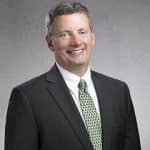 James Collins joined HNTB Corporation's transit/rail practice as a project director and vice president. Based in HNTB's Empire State Building offices, Collins is supporting the continued growth of the transit/rail practice in the region with an emphasis on major design-build projects.
"Jim is a recognized leader, known for his experience with complex transit projects," said Stephen Dilts, HNTB's New York office leader and senior vice president. "His knowledge of all phases of transit design and construction, including alternative delivery methods such as design-build, is increasingly important to transit agencies, and a valuable addition to our firm."
Collins has more than 30 years of transit design and construction management experience. Prior to joining HNTB, he led design teams with another major consulting firm involved in many significant design-build transit projects, including improvements to Long Island Rail Road facilities at New York Penn Station.
He served as program design director for a portion of New York City Transit's enhanced station initiative, and he led station design and construction engineering services for the Second Avenue Subway extension. Collins's background includes a leading role in the design of the rail transit facilities for the James A. Farley United States Post Office Building/Moynihan Station redevelopment project; airline terminal expansion programs at John F. Kennedy International Airport; and managing construction of a multimodal passenger station integrating the Newark International Airport Monorail with New Jersey Transit rail services.
A graduate of the State University of New York at Stony Brook, Collins holds a bachelor's degree in mechanical engineering, and he is a member of the American Society of Mechanical Engineers.
HNTB plays an integral role in many of the region's most important infrastructure programs, including construction manager for renewal and rehabilitation of multiple station facilities for New York City Transit; program manager for the redevelopment of John F. Kennedy International Airport; program manager for the Port Authority Bus Terminal redevelopment project; owner's engineer for the Gov. Mario M. Cuomo (Tappan Zee) Bridge; lead structural designer of the Kosciuszko Bridge; technical consultant for the Goethals Bridge replacement project; and general engineering consultant for the New Jersey Turnpike Authority, among others.
RELATED: HNTB Tunnel and Underground Team Expands with Two New Hires