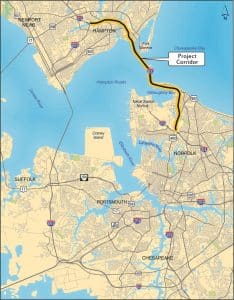 The project to build a new Hampton Roads Bridge-Tunnel (HRBT) and widen I-64 in Hampton and Norfolk, Virginia, reached a major milestone Dec. 15, 2017, with the issuance of a Request for Qualifications (RFQ) from firms interested in delivering the work.
The release of the RFQ marks the official start of the contract procurement process. Responses are due March 2, 2018. Among other things, teams may present their capabilities in immersed-tube tunneling, bored tunneling, or both methods.
A short list of qualified teams will be notified in April. Those teams will then be asked to submit detailed technical approaches and binding prices in response to a Request for Proposals. Contract award is anticipated in early 2019, followed by project completion in 2024.
RELATED: Officials Celebrate Opening of Elizabeth River Tunnels P3 Project
The HRBT Expansion project will build another bridge-tunnel and widen the four-lane segments of I-64 in Hampton and Norfolk to ease daily congestion between the Peninsula and South Hampton Roads, a corridor vital to Virginia's economy, military readiness and regional connectivity. Traffic on the HRBT's existing four lanes exceeds 100,000 vehicles per day during peak summer traffic.
The majority of project funding will be provided by the Hampton Roads Transportation Accountability Commission, with federal support and other resources also anticipated. The estimated project cost is $3.3 billion (2016).
Further information about the Hampton Roads Bridge-Tunnel Expansion, including procurement details, is available here.