Skanska, leading a joint venture of Skanska, Kiewit Construction and Weeks Marine (SKW Constructors), on Sept. 19 celebrated the official completion, one year ahead of schedule, of the award-winning design-build phase of the Elizabeth River Tunnels (ERT) project between Norfolk and Portsmouth, Virginia. Virginia Secretary of Transportation Aubrey Layne, representatives of local municipalities, and officials from SKW Constructors participated in a ribbon-cutting ceremony.
The completed ERT project features a new two-lane tunnel adjacent to the existing, refurbished Midtown Tunnel under the Elizabeth River, connecting the communities of Norfolk and Portsmouth. The two-tunnel configuration, along with enhanced access roads, provides urgently needed additional capacity for a road considered the "most heavily traveled two-lane road east of the Mississippi," according to the Virginia Department of Transportation, and the usage of which has gone up by 600 percent since its opening more than 50 years ago.
"This ceremony marks the conclusion of a project that has been a top priority for the Hampton Roads region for many years," Layne said. "The two-tunnel system and other improvements allow for smoother, safer flow of traffic between Norfolk and Portsmouth, a more efficient flow of goods and services and a better quality of life for local residents."
The ERT project represents a successful example of the public-private partnership (P3) model, which involves the development, design, construction, finance, and operation and maintenance of a project. P3s offer a number of benefits including that the private sector assumes more responsibility for a project's outcome and financial health, and it manages that responsibility by investing its own capital. P3s can allow for effective risk recognition and mitigation and more efficient and accelerated procurement, which was exhibited by the ERT project where every phase was completed ahead of schedule.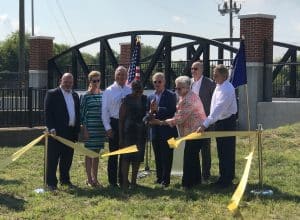 "Thanks to the P3 model and our use of the design-build process, we were able to successfully deploy what I call 'collaborative talent dynamics,' " said Wade Watson, ERT project design-build director. "By applying innovative ideas, efficient procurement methods and coordination of efforts among all parties in the project, we were able to complete our work a year ahead of schedule, while maintaining our usual high safety and quality standards."
The 3,800-ft long underwater vehicle tunnel is one of the few immersed-tube tunnels in the United States, and is comprised of eleven 16,000-ton concrete elements. The tubes were fabricated at Sparrows Point, Maryland, and towed 220 nautical miles down the Chesapeake Bay to the project site in Portsmouth. They were then immersed and positioned – one element at a time – in a dredged trench nearly 100 ft at the bottom of the Elizabeth River and then connected through a series of locking mechanisms and seals.
RELATED: Skanska-Strabag Team Breaks Through in Norway's Ulriken Tunnel
ERT has already alleviated congestion issues and saves the average round-trip commuter between 30 and 60 minutes a day. It also includes fire, life and safety modifications and upgrades to the existing Midtown Tunnel and Downtown Tunnels; interchange modifications in Norfolk and Portsmouth; and extension of the MLK Expressway in Portsmouth from London Boulevard to I-264.
Operational control of the tunnels is now the responsibility of Elizabeth River Crossings (ERC), a joint venture of Skanska and Macquarie Group.
"Residents and visitors to the Hampton Roads area are only beginning to feel the benefits of the improved Elizabeth River Tunnels system," said Philip Shucet, Elizabeth River Crossings CEO. "Our agreement with VDOT requires us to properly maintain the facilities throughout the term of the agreement, meaning drivers will enjoy clean and safe tunnels and the MLK for years to come."
The ERT project was Skanska's first public-private partnership in the United States.
RELATED: Public-Private Partnerships Roundtable