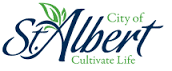 The City of St. Albert, Alberta, is preparing for its third phase of the North Interceptor Sanitary Trunk sewer. The project consists of a 1,500-mm (5-ft) ID tunnel approximately 3,000 m (10,000 ft) in length to be installed by microtunneling. The depth of the tunnel ranges from 3 to 12 m (10 to 40 ft) and is expected to be within silty clay material with a high water content.  The tunnel alignment travels through central St. Albert and has construction scheduled to commence in fall 2016.
RELATED: Microtunneling Professionals Receive Industry Awards
The project has reached the prequalification stage for experienced general and tunneling contractors (submission deadline is May 19, 2016). Interested Contractors may register with Associated Engineering (contact: Jason Lueke, Ph.D., P.Eng., at luekej@ae.ca) to receive the Request for Qualification documents and notifications.