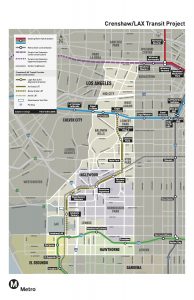 The tunnel boring machine that is digging the second of the two rail tunnels under Crenshaw Boulevard arrived at the future Martin Luther King, Jr. Station in February. The first rail tunnel was completed last year and the TBM, "Harriet," was taken apart and reassembled to dig the second tunnel from north to south — starting at the future Expo/Crenshaw Station (which will be the transfer point to the Expo Line) and then making its way toward Leimert Park.
The next stop is Leimert Park Station, which will conclude the TBM's job on this project.
For a video of the breakthrough, click here.
For a gallery of other recent photos of construction up and down the Crenshaw/LAX corridor, click here.
RELATED: LA Metro Christens TBM for Regional Connector
The $1.278 billion Crenshaw/LAX project for the Los Angeles Metropolitan Transportation Authority (Metro) is being built by a joint venture of Walsh and Shea. It an 8.5-mile light-rail line that will run between the Expo Line on Exposition Boulevard and the Metro Green Line. NTP was issued in September 2013 with revenue service expected by October 2019.
The projects consists of twin bore tunnels, about 1-mile long each, connecting three underground stations. The tunnel is 21-ft OD (19-ft ID) and is approximately 70 ft below ground. Ground conditions are soft ground/alluvial, leading to the choice of an EPB TBM, which was supplied by Herrenknecht.
RELATED: Tutor Perini-O&G Awarded LA Purple Line Phase 2 Contract