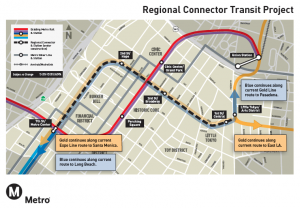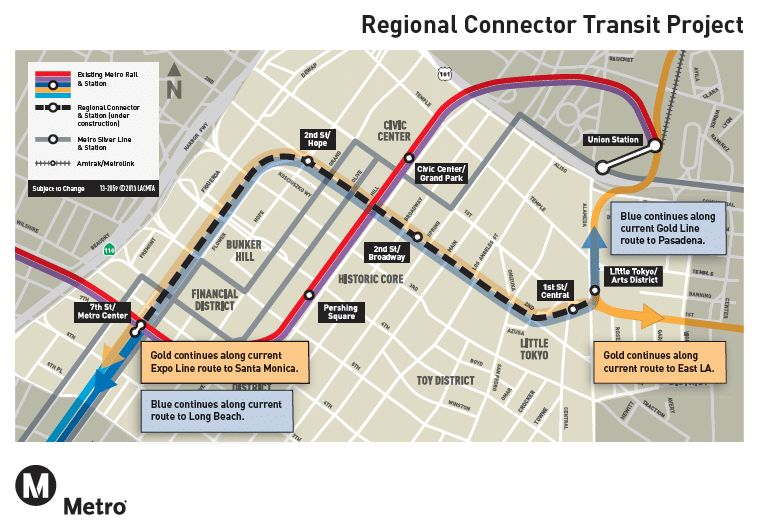 Los Angeles Mayor Eric Garcetti on Oct. 19 joined Metro and community stakeholders in Little Tokyo for the ceremonial naming and lowering of the tunnel boring machine (TBM) that will dig twin 1.1-mile underground rail tunnels under downtown Los Angeles for the Regional Connector Transit Project. Excavation work is expected to begin in January.
The $1.55 billion Regional Connector Transit Project is a 1.9-mile underground light-rail tunnel that will connect the Blue, Expo, and Gold lines in downtown Los Angeles and will include three new stations at 1st Street/Central Avenue, 2nd Street/Broadway and 2nd Place/Hope Street. The rail line is expected to save commuters up to 20 minutes by reducing the need to transfer when traveling to and through downtown L.A. Construction is expected to be completed in 2021. The TBM Harriet Tubman, lowered in February, is expected to reach the halfway point in the Crenshaw/LAX project this week. Once complete, the Crenshaw/LAX Line will connect the Green and Expo lines with eight new stations to serve the Crenshaw, Inglewood, and LAX-adjacent communities.
RELATED: LA Metro Board Awards Regional Connector Contract
"Building out a 21st century transportation system means creating links so that people can get around L.A. County with ease," said Mayor Garcetti. "As 'Angeli' digs through the heart of Downtown, she is creating seamless connections for Angelenos from Azusa to Santa Monica. And once 'Harriet Tubman' is finished clearing the way for the Crenshaw/LAX line, we will dramatically expand the possibilities of how Angelenos live, work, and play."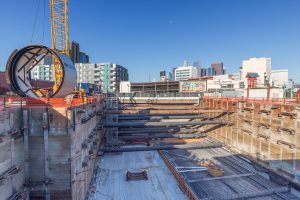 TAP Cards were awarded to students who won contests to name the machine and create an illustration for its tail shield. The winning name, "Angeli" — which means "angels" in Latin — was submitted by 8th grade student Windsor McInerny, who previously attended Will Rogers Middle School. The winning illustration is by Alexander Li, a senior at Adolfo Camarillo High School in Ventura County.
"This is a major milestone toward the completion of a vital project that truly connects the region by providing a one-seat ride to downtown Los Angeles for users of the Blue, Gold, and Expo lines," said Metro Board Chair and Duarte City Council Member John Fasana. "The Regional Connector will reduce travel times for many Metro Rail riders and make our system much more convenient and attractive to those who want a transit alternative to driving."
RELATED: Atlanta Announces Name of Water Supply Program TBM
The naming of a TBM comes from a mining tradition that dates back to the 14th century. Saint Barbara, the patron saint for military engineers and miners, has been revered by underground workers as a symbol of protection and good luck for centuries. This homage evolved into the tradition of giving tunneling machines a female name before digging begins.