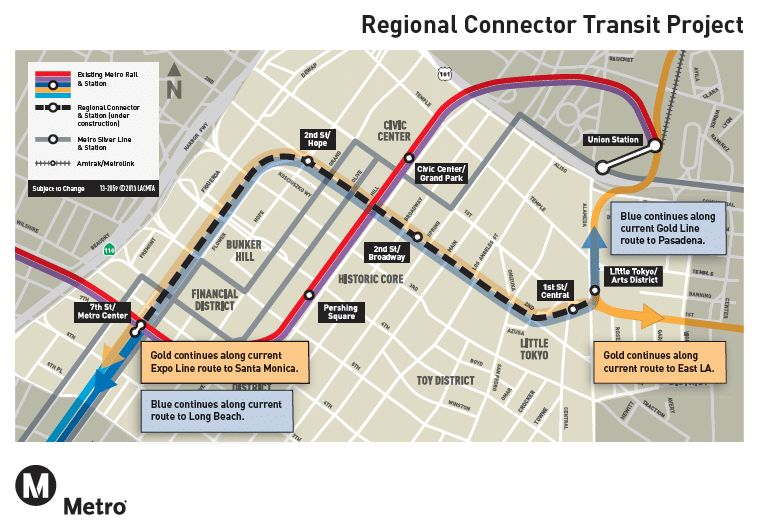 The Los Angeles County Metropolitan Transportation Authority (Metro) Board of Directors on April 24 approved a $927.2 million contract to Regional Connector Constructors, a joint venture between Skanska USA Civil West California District, Inc. and Traylor Brothers Inc. to design and build the Regional Connector Transit Corridor Project.
The Regional Connector light rail project will complete a 1.9-mile gap connecting the Metro Gold Line with the Blue and Expo lines by providing a direct connection with three new stations planned for 1st Street/Central Avenue, 2nd Street/Broadway and 2nd Place/Hope Street in downtown Los Angeles.
In addition to awarding the contract, the Board also approved an additional $39.99 million for the Regional Connector Life-of-Project budget for a total budget of $1.420 billion. Of the four bids received, Skanska/Traylor had the overall highest ranking including the highest technical score and the highest evaluated score for pricing, based on the criteria in the request for proposals. In recommending the award of the contract, staff noted that Skanska/Traylor indicated that they plan to finish construction 115 days early and will absorb the cost of any delays caused by Metro or subcontractors.
The Regional Connector Project is an important rail connection project overwhelmingly approved by the voters and funded by the Measure R half-cent sales tax for LA County transportation improvements. Earlier this year, Metro joined federal, state and local elected officials in announcing the receipt of a Full Funding Grant Agreement (FFGA) from the Federal Transit Administration in the amount of $670 million and a $160 million low interest federal loan from a Transportation Infrastructure Finance and Innovation Act (TIFIA) to fund the project.
The Regional Connector, expected to be completed in 2020, will attract nearly 17,000 new daily riders and provide access to more than 88,000 passengers saving commuters up to 20 minutes off their daily commutes. It will provide a one-seat, one-fare ride for commuters from Azusa to Long Beach and from East Los Angeles to Santa Monica without the need to transfer between rail lines for major east/west and north/south trips.
The Metro Board also voted to have staff work with stakeholders and community members to identify and secure additional funding for an upper-level elevator entrance and pedestrian bridge to connect the 2nd /Hope Station to Grand Avenue and report back to the Board in September.
The new Metro Rail extension will offer an alternative transportation option to congested roadways, provide significant environmental benefits and spur economic development throughout Los Angeles County. Through improved connectivity, riders will be better able to use the entire Metro Rail system, municipal bus lines and other regional transportation services.
For more information about the Regional Connector project, visit metro.net/projects/connector.