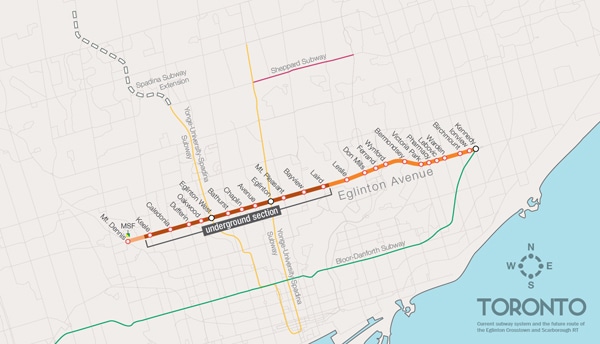 Aecon Group Inc. announced on July 24 that Crosslinx Transit Solutions has reached commercial and financial close on the previously disclosed Eglinton Crosstown Light Rail Transit (LRT) project in Toronto. In 2010, the Province of Ontario announced an investment of $5.3 billion for capital (construction costs) for the Crosstown LRT.
Crosslinx comprises Aecon, ACS Infrastructure Canada, EllisDon and SNC-Lavalin, and was previously selected by Metrolinx and Infrastructure Ontario as the preferred proponent for the project. Each member of the Crosslinx consortium, including related construction and maintenance affiliates, is an equal partner with a 25 percent interest in the equity, development, construction and maintenance activities of the project.
Financing for the project is provided by National Bank Financial Inc. and Scotia Capital Inc. as Underwriters; Alberta Treasury Branches, Caisse Centrale Desjardins, The Bank of Nova Scotia, The Bank of Tokyo-Mitsubishi UFJ, Ltd. and Toronto-Dominion Bank as Mandate Lead Arrangers; and The Bank of Nova Scotia and National Bank Financial Inc. have acted as Co-Financial Advisors for the project.
Crosslinx is responsible for the design, build, finance, maintenance and lifecycle activities of the 19-km Eglinton Crosstown LRT line for a 30-year maintenance term, including 25 stations, an integrated system of track work, rolling stock, signaling and communications infrastructure.
"Together with our partners, Aecon is pleased to advance to the execution stage of the Eglinton Crosstown LRT project and looks forward to delivering a world-class LRT service for the City of Toronto," said Teri McKibbon, President and Chief Executive Officer, Aecon Group Inc. "Our participation in this large-scale project, both during construction and maintenance stages, bodes well for Aecon's growth, as it positions itself to participate in the unprecedented transit build-out planned by various jurisdictions across Canada."