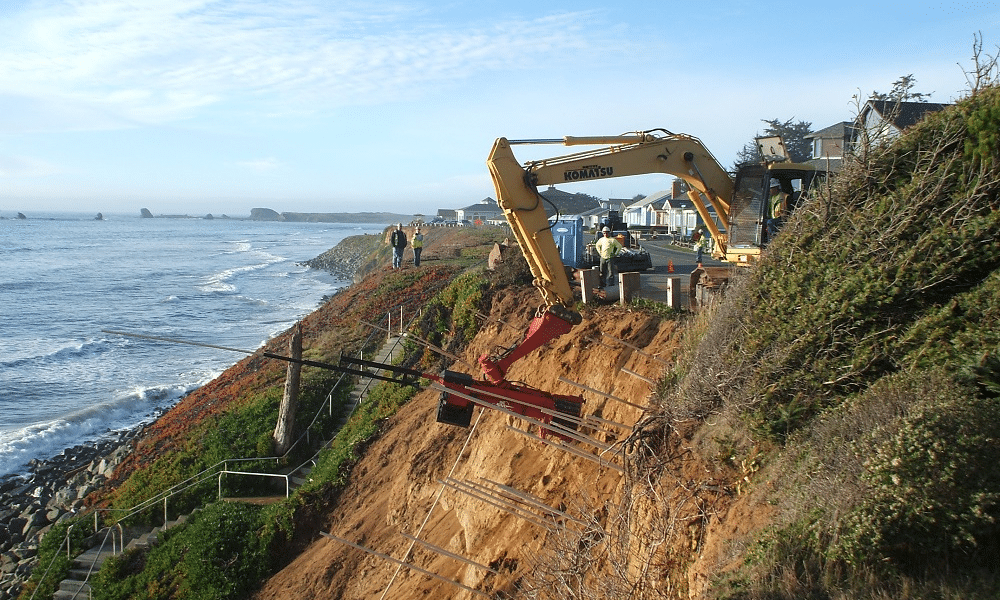 Deep Foundations Institute (DFI) has announced the "Soil Nail Launcher" as the winner of the 2018 C. William Bermingham Innovation Award.
The award will be presented at DFI's 43rd Annual Conference on Deep Foundations in Anaheim, California, Oct. 24-27, 2018, to Al Ruckman, P.E., and Bob Barrett, P.G., founders of GeoStabilization International, a leading geohazard mitigation firm operating throughout the United States, Canada and New Zealand.
The Soil Nail Launcher is used to repair shallow slope instabilities at a fraction of the time and cost of traditional technologies. The innovative Soil Nail Launcher is a compressed air cannon that can accelerate a 1.5-in. diameter, 20-ft long steel or fiberglass tube to 250 mph in a single shot. The dynamic installation results in many distinct benefits over conventional nailing techniques. First, as these high-speed projectiles enter the earth, they generate a shock wave that causes the soil particles to elastically deform or "jump away" from the nail tip. The bars enter the earth without significant abrasion or loss of exterior corrosion protection. The soil particles then collapse onto the bar in a relatively undisturbed state, yielding pullout capacities up to 10 times that of driven or vibrated rods or tubes. Lastly, launched Soil Nails increase soil density in the nailed area. In contrast, conventional open-hole drilling techniques allow the soil to relax prior to installation, which can adversely affect bond capacity.
This award is in honor of C. William Bermingham, DFI president from 1986-1987. The criteria for the award include "contributing to the advancement of the deep foundations industry by introducing a new and unique practice including means and methods, design procedures, equipment and materials by an individual, a team or a company." The award recipient receives $5,000.
RELATED: Likins Named 2018 DFI Distinguished Service Award Recipient