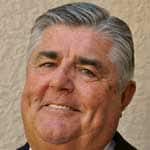 Tom Clemens, longtime employee and more recently President of North American Tunneling for DSI Underground, based in Louisville, Kentucky, announced his retirement effective Dec. 31, 2018. Clemens marked 47 years with the firm.
After graduating from Westminster College in New Wilmington, Pennsylvania, Clemens began his nearly 50-year career in a training program and inside sales position for Commercial Shearing's Underground Supports Division.  While the ownership and company has changed several times over the years, Clemens steadily rose through the company taking on additional sales and operations positions. He was named president in December 2006, after playing a key role in developing alliances with partner companies to dramatically expand their product line serving the underground construction industry.
Clemens has been a pillar in the tunneling industry sitting on several boards and committees, including Underground Construction Association Executive Committee, as well as a member of the lnternational Tunneling Association. His involvement and contributions to the industry led him to win the Golden Beavers Service and Supply Award in 2015.
Clemens played a key role in developing alliances and expanding DSI's product lines. He has agreed to continue his relationship with DSI with future support on a consultation basis.