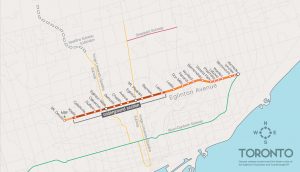 Tunneling is now complete on the 10-km (6.2-mile) underground tunnel of the Eglinton Crosstown Light Rail Transit (LRT) line.
On Aug. 17, tunnel boring machines (TBMs) Don and Humber, boring the eastern segment tunnels, arrived at Yonge Street having traveled 3,300 m from where they started just east of Brentcliffe Road in September 2015. In total, Don and Humber installed 26,178 precast concrete tunnel segments, which formed 4,363 rings. TBMs Dennis and Lea completed tunneling on the western segment of the Crosstown when they reached Yonge Street in May 2016.
New, modern light rail vehicles operating on tracks separated from regular traffic will offer fast, efficient service and improve travel for people across the region by enabling travel up to 60 per cent faster than existing bus service. The Eglinton Crosstown LRT will also help fight climate change by managing greenhouse gas emissions from Ontario's transportation sector. The new LRT line will have 25 stations and stops along Eglinton Avenue between Weston Road and Kennedy Station, and will also link to 54 bus routes, three TTC interchange subway stations, and GO Transit.
RELATED: Tunneling Complete on Eglinton Crosstown Western Segment
Ontario is making the largest investment in public infrastructure in the province's history — about $160 billion over 12 years, which is supporting 110,000 jobs, on average , each year across the province, with projects such as hospitals, schools, roads, bridges and transit. Since 2015, the province has announced support for more than 475 projects that will keep people and goods moving, connect communities and improve quality of life. To learn more about infrastructure projects in your community, click here.
Eglinton Crosstown LRT is part of the government's economic plan to build Ontario up and deliver on its no. 1 priority to grow the economy and create jobs. The four-part plan includes helping more people get and create the jobs of the future by expanding access to high-quality college and university education. The plan is making the largest infrastructure investment in hospitals, schools, roads, bridges and transit in Ontario's history and is investing in a low-carbon economy driven by innovative, high-growth, export-oriented businesses. The plan is also helping working Ontarians achieve a more secure retirement.
"We are making considerable progress on the Eglinton Crosstown LRT line. The completion of tunneling is a significant step for the project and will provide 19 km of new rapid transit for Toronto. This is further proof of our government's commitment to provide accessible, modern transit infrastructure that will manage congestion, reduce commute times, create jobs and improve the quality of life for Ontarians," said Steven Del Duca, Minister of Transportation.
RELATED: Trackwork Complete on Toronto-York Spadina Subway Extension
"Having our east tunnel boring machines reach Yonge Street is another exciting progress milestone for the Eglinton Crosstown LRT project. With tunneling now complete for both the east and west segments of the line and construction underway on many underground stations, our vision of a modern, integrated transit line in Toronto that connects to three subway stations, three GO stations, and an UP Express station is even closer to becoming a reality," said Bruce McCuaig, President and CEO, Metrolinx.
Quick Facts
Construction shoring is now underway on three Crosstown stations, including Keelesdale, Laird and Avenue, with preparatory demolition work underway, near completion or completed at Chaplin, Fairbank, Forest Hill, Mount Pleasant, Mount Dennis, Laird, Keelesdale, Avenue, Oakwood, Science Centre, Eglinton and Leaside.
The Eglinton Crosstown LRT is one of the largest public transit projects currently under construction in Canada. Ontario committed $5.3 billion in capital investment to the Crosstown project to further expand transit in Toronto.
By 2031, the Eglinton Crosstown LRT is expected to carry approximately 5,500 passengers per hour during peak travel times, with daily boardings estimated to be 162,000 and an annual ridership of about 50 million.
At the peak of construction, approximately 2,500 workers will work on the project and 90 percent of the labor will come from the Greater Toronto Area.
Construction on the Eglinton Crosstown LRT began in 2011 and the LRT will be in service by September 2021.
Metrolinx and Infrastructure Ontario are working together to deliver the Eglinton Crosstown LRT, which will remain publicly owned and controlled.
Research shows that every $100 million of public infrastructure investment in Ontario boosts GDP by $114 million, particularly in construction and manufacturing sectors.