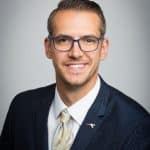 Freese and Nichols Inc. continues to enhance its water conveyance capabilities in the Southeast Texas region, welcoming tunneling expert Brian C. Gettinger, PE, as a Tunneling Services Leader. Gettinger will leverage his expertise to expand the firm's capabilities on complex underground excavation projects, including water, wastewater and stormwater engagements, and transportation and other initiatives requiring trenchless technology. He will serve as a project manager based in Houston/Pearland.
"The tunneling industry is very specialized, and Brian has distinguished himself both nationally and in the Houston area," said Jeff Taylor, Freese and Nichols Southeast Division Manager. "He can help us provide new and efficient ways to solve infrastructure challenges."
During the last decade, Gettinger has handled a variety of roles on large water infrastructure projects, working with clients across the United States and Canada. He has in-depth experience with the planning, design and construction of tunnels, dams, reservoirs and pipelines, as well as shafts and grouting. He has worked with multiple municipalities and public entities, including Texas entities such as the San Antonio Water System (SAWS), Harris County Flood Control District (HCFCD), West Harris County Regional Water Authority (WHCRWA) and City of Austin. He is licensed in Texas, California and Missouri.
Noteworthy projects include: construction management of a 20-ft diameter, 5-mile-long combined sewer tunnel in Columbus, Ohio; multiple design and construction projects for Chicago's Tunnel and Reservoir Plan (TARP) system, including the 8 billion-gallon Thornton Reservoir and 3.5 billion-gallon McCook Reservoir and connecting tunnels; leading the concept evaluation of a 90-in. diameter interceptor tunnel more than 5 miles long in San Antonio; and managing replacement of a 240-ft earthfill dam embankment impounding a 90,000-acre-foot reservoir in California's Santa Clara Valley.
Gettinger is regularly invited to share his expertise in sustainable tunnel projects locally, regionally and nationally. In October, he was a featured speaker at a community meeting where he discussed a proposed "super tunnel" that could provide flooding relief in the Katy area near Houston. He has presented at the World Tunnel Congress, North American Tunneling Conference and International Conference on Sustainable Design and Construction.
Gettinger earned his master's in business and finance and his bachelor's in civil engineering from the University of Missouri-Kansas City.
RELATED: Austin Builds WTP4 to Ensure Safe and Reliable Drinking Water