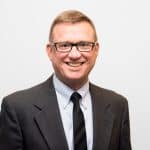 McMillen Jacobs Associates announced that Mark Funkhouser, PE, has joined the Columbus, Ohio, office, relocating from the firm's Sydney, Australia, office. While in Sydney, Funkhouser was leading tunnel design services for two of the numerous McMillen Jacobs detailed design lots on the $3.8 billion AUD WestConnex M4 East Design + Construct project, and providing support on other significant Design + Construct projects in the region.
Funkhouser will be managing the Columbus office, which opened in June 2016, and will be providing design leadership on the Lower Olentangy Tunnel, as well as providing business development for major underground design-build, dam safety, and hydropower pursuits. His 30 years of international experience specializing in geotechnical and rock mechanics engineering has been an asset to the firm since he joined in 2015.
RELATED: Fulcher Joins McMillen Jacobs Associates
Prior to joining McMillen Jacobs, Funkhouser's most recent notable projects included geotechnical characterization for the Toronto-York Spadina Subway Extension (TYSSE) project for the Toronto Transit Commission; an assessment of an existing 23 m wide x 45 m long x 12 m high cavern for a project in South Korea; preliminary design and then continuation as owner's engineer for a twin highway tunnel design-build project in Louisville, Kentucky; tender evaluation of design-build submittals for a high pressure potable water supply tunnel in Israel; and an abandoned underground coal mine investigation below I-94 near Jackson, Michigan; plus, numerous dam safety and dam rehabilitation projects within the Ohio Valley Region.
His experience spans several countries, including Canada, South Korea, Israel, Australia, the Philippines, and the United States.
Funkhouser holds an MS degree in civil engineering (geotechnical) and a BS degree in civil engineering, both from the University of Illinois. He is a registered professional civil engineer in Ohio, Indiana, Kentucky, Pennsylvania, Michigan, Illinois, Georgia, Kansas, and Texas.
RELATED: Trackwork Complete on Toronto-York Spadina Subway Extension