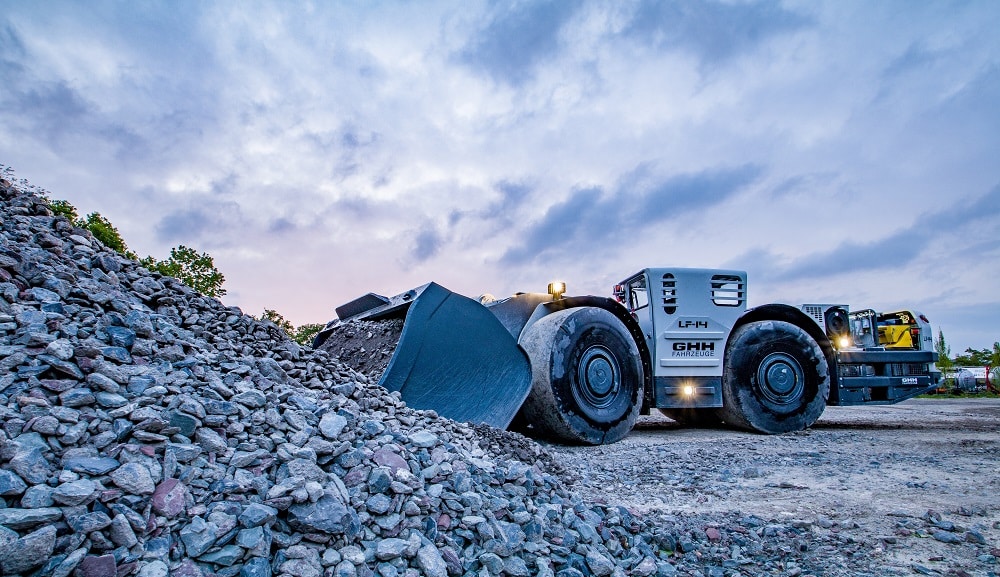 German manufacturer GHH unveiled its new LF 14, which is the world's strongest Load Haul Dumper (LHD) in the 14 tonne payload category. Thanks to substantial progress also in other areas, for instance the operating ergonomics, the LF 14 is setting standards in this product field.
"There is no other LHD in this category that offers more performance and drive, more cabin space and so many options," says managing director Dr. Jan Petzold.
This LF 14 is powered by a water-cooled Volvo TAD1351 diesel engine with 285 kW that meets the exhaust gas norm EPA Tier 3/EU Stage IIIA. Alternatively, there is the TAD1371VE for EPA Tier 4f/EU Stage IV to further reduce the impact on mine air quality.
The bucket of the 38.5 tonne vehicle with the 14 tonne payload can lift up volumes of max. 9 m³ to almost 5.5 m (upper edge). The special forward kinematics of the lifting arm are optimized for high breakout forces, long operating times and fast loading of dump trucks. For instance, the LF 14 lifts its full bucket in 7 seconds, moves at a speed of more than 26 km/h and empties it in about 2 seconds. A semi-automatic loading mode facilitates work and ensures fast one-pass loading. The Dana TE32 4-gear transmission shifts quickly and softly up and down.
"Short loading cycles for a maximum transport output per hour were our primary development objective," says Petzold. Productivity has always been one of the manufacturer's greatest strengths, while always being absolutely reliability.
RELATED: Epiroc Releases Fully Automatic Functionality for Serpent Ventilation System