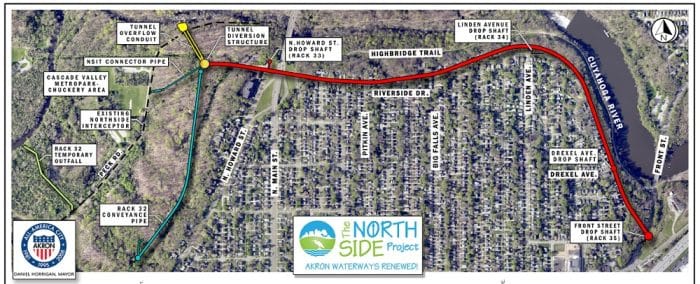 Granite has been awarded an approximately $215 million contract by the City of Akron (OH) to construct the Northside Interceptor Tunnel Project (NSIT) to aid in preventing combined sewer overflows from entering the Cuyahoga River during typical storms. Project funding will come from the Ohio Environmental Protection Agency's Water Pollution Control Loan Fund (WPCLF) and is expected to be included in Granite's third-quarter CAP.
The NSIT, a crucial component of the U.S. Environmental Protection Agency's mandated Consent Decree, is set to revolutionize the city's sewer infrastructure and significantly reduce combined sewer overflows (CSOs). The project's primary structure, a 16.5-ft internal diameter tunnel located along the Cuyahoga River, will play a pivotal role in addressing CSOs by collecting overflows at four locations and storing them. This storage capacity—more than 10 million gallons—will curb the environmental impacts of CSOs, safeguarding the health of local waterways.
The project encompasses various components that will ensure its efficacy and success. Key elements include 6,660 linear feet of precast-concrete-segmental-lined rock tunnel with a finished inside diameter of 16.5 feet, designed to accommodate both dry and wet-weather sewage flow, as well as store combined sewage. The project also features an array of control structures, flow drop shafts, connecting sewers, and overflow structures, all carefully integrated to optimize the system's performance.
"Spanning 6,660 feet in length and descending over 100 feet below ground into rock, NSIT will be a feat of engineering and is set to become a symbol of innovation and environmental stewardship for the entire region," said Granite Vice President of Regional Operations, Jim Nickerson. "We have a great working relationship with the City of Akron from the previous Ohio Canal Interceptor Tunnel Project. The city is committed to contracting work to local firms and our contracting plan was able to exceed Akron's local contracting goals and provide major economic benefit to the community."
The project is planned to begin in September 2023 and is expected to be completed in July 2027.