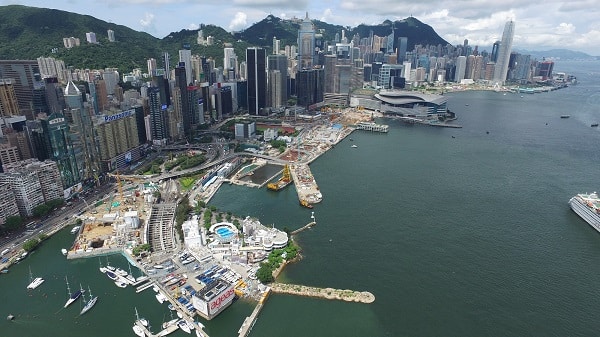 Sigmar Gabriel, the German Minister for Economic Affairs and Energy, took the time on Nov. 3 to inspect construction progress at one of the currently most important inner-city tunnel projects in Hong Kong, which is being powered by high-tech Herrenknecht tunnel boring machines.
The Minister and his delegation were fascinated by how top German technology is being used to develop groundbreaking infrastructure in Hong Kong. The mega-city is permanently rising above itself. Investments are being made in high-performance underground tunnel structures in particular to keep abreast of development by the city, setting international standards and realizing technical flagship projects.
In the course of the extension of the Mass Transit Railway Network, a new metro station is being built near the Hong Kong Convention and Exhibition Centre. The related underground tunnel sections are constructed by the joint venture Dragages–Bouygues using tunneling technology from Herrenknecht (Shatin to Central Link Contract No. 1128).
The Shatin to Central Link (SCL) extends the Ma On Shan Line and East Rail Line as well as connecting with the West Rail Line forming the strategic East West Corridor (EWC) and North South Corridor (NSC) enhancing connectivity of the entire railway network.
RELATED: AECOM Wins Contract for Hong Kong Tunnel
The first of the four tunnels has already been completed; the Mixshield S-988 (Ø 7.41m) is being disassembled from inside the tunnel later to be transported to the next tunnel starting point just to the west of the Exhibition Center. The Herrenknecht S-989 (Ø 7.41m) has commenced tunneling on a parallel alignment. It passes over the already constructed metro tunnel excavated by the S-988 TBM as the tunnels meet exhibition station in a stacked formation, one on top of the other. A Variable Density TBM is being used for this extremely sensitive drive near the coastline through mixed geologies with an overburden of approximately 6 m in places. The innovative machine combines the advantages of proven methods and can react flexibly to geological and hydrogeological changes along this complex alignment.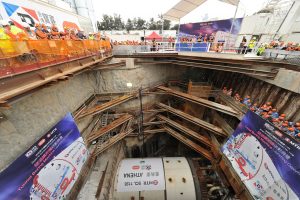 The two proven systems, Mixshield and EPB Shield, are combined in a Herrenknecht Variable Density TBM. This makes it possible to switch between various operational modes smoothly and to optimally adapt the TBM to the prevailing ground conditions.
To balance the pressure conditions at the tunnel face, a continuously variable change is possible from a fully controlled slurry pressure support with a thin suspension to a ground paste pressure support. Material transport can also be changed: The system can switch from hydraulic transportation via pipeline to transportation via belt conveyor or muck car haulage. Operation modes using a thick suspension or EPB mode with slurry circuit are also possible.
RELATED: Herrenknecht TBMs Bore Doha Metro