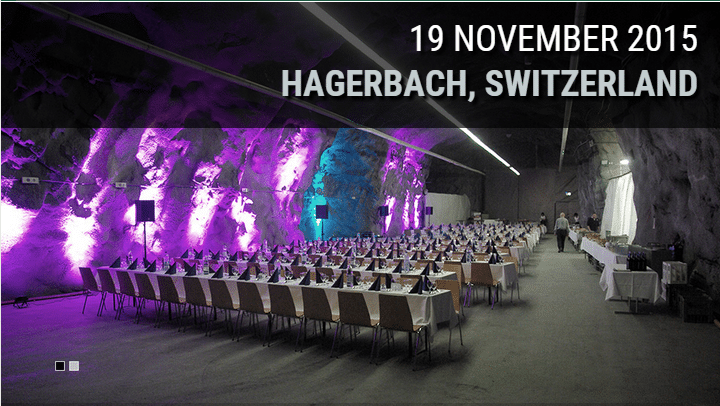 The International Tunnelling and Underground Space Association (ITA) is organizing the 2015 "ITA Tunneling Awards." The event will be held Nov. 19 in a unique underground location: the Hagerbach underground test facility in Switzerland.
ITA has preselected 24 projects across seven categories. Three of them have been nominated in the category "Major Tunneling Project of the Year," related to large-scale tunneling and underground space projects requiring more than 500 million euros investment. The nominees are: the Eurasia Tunnel in Istanbul, New York City's Second Avenue Subway, and the Futian Station of the Guangzhou-Shenzhen-Hong Kong High-Speed Railway.
Eurasia Tunnel
The Eurasia Tunnel is the first highway tunnel joining Asia and Europe by using a mechanized tunnel boring machine (TBM). The 14.6-km tunnel, which will be completed on the Kazlıçeşme-Göztepe route by 2016, will connect the Asian and European lands through a highway tunnel going under the seabed of Istanbul Bosphorus Strait. Its existence will considerably reduce times of travels between the Asian and the European sides, from 100 minutes to 15 minutes. With the thinning of the traffic and the rearrangement of access roads permitted by the tunnel, this flagship project is strategic for the city of Istanbul, which prepares itself to host major international organizations. Technically speaking, it will be the first undersea tunnel linking Asia and Europe constructed thanks to a mechanized tunnel boring machine (TBM).
Second Avenue Subway
Initiated eight years ago and operational by 2016, the New York City Second Avenue Subway is the largest U.S. transit project so far. It consists of constructing a new subway line to expand the metropolitan subway network. With an expected ridership of over 200,000 weekday riders, it will relieve overcrowding and delays within the city and for suburban commuters. Due to the dense urban environment and the challenging underground conditions, the project is noted for its innovative engineering solutions. Challenges included large and shallow station caverns using optimized excavation sequencing and support system, drilling and blasting in close proximity to multiple tall building foundations, vibration and dust control approaches, underpinning an occupied 30-story building, and building two highly sophisticated muck houses for each station's excavation to minimize environmental impacts. A unique example of inter-disciplinary coordination, the project recently received the Green Building Design Award from the U.S. Environmental Protection Agency.
Futian Station
The Guangzhou-Shenzhen-Hong Kong High-Speed Railway is a part of the Beijing-Hong Kong High Speed Railway, planned to connect mainland China and Hong Kong. It aims at developing transit from Guangzhou South Station to Kowloon West, Hong Kong, notably going through the Shenzhen North Station and the Futian Station, which was to be constructed. This 11.4-km long project was also structured around the Yitian Road Tunnel, located between the Shenzhen North Railway Station and the Futian Station. The achievement of the project has considerably reduced the travel time from Guangzhou to Hong Kong. The works began in 2008 and came to an end on June 2015. Futian Station is the first underground railway station in China and the largest in Asia. More than 1,000 m long, 32 m deep and almost 80 m wide, it is designed to receive the fastest train in the world (130 mph). A three-layer underground station, it is structured around eight lines and four platforms, and integrates junctions with urban rail networks, buses and taxi transport systems. The techniques implemented during the seven- year construction (massive engineering scale, earthwork, excavation of foundation pits reaching 1,830,000 sq m) have set a precedent regarding the construction of a large underground structure in an urban center.
In addition to the seven categories of projects, the ITA Awards 2015 have created four other categories: the Young Tunnelers of the Year, Contractors of the Year and the Engineers of the Year. An Award will also be given for Lifetime achievement. The complete list of awards and finalists are listed below.
Major Tunneling Project of the Year (more than 500 million €)
-Eurasia Tunnel Project – Turkey
-Futian Station of Guangzhou – Shenzhen – Hong Kong – China
-New York City's Second Avenue Subway Project – USA
Tunneling Project of the Year (from 50 to 500 million euros)       
-1st Phase of Low and Intermediate Level Radioactive Waste Disposal Facility Construction – South Korea
-Indianapolis Deep Rock Conveyance and Storage Tunnel Project – USA
-Lake Mead intake No. 3 – USA
Outstanding Project of the Year (up to 50 million euros)
-Grosvenor Decline Tunnels – Australia
-Norsbork Metro Depot – Sweden
-North Strathfield Rail Underpass – Australia
Technical innovation of the Year
-An Innovative Vehicle – mounted GPR Technique for Fast and Efficient Monitoring of Tunnel Lining Structure Conditions
-Combination of Techniques for Immersed Tunnel
-Development of the New Joint (SB Joint) for Shield Tunnels
-Monitoring Tunneling Induced Ground Displacements Using Distributed Fiber Optic Sensing
-New Innovative System for Layer Thickness Control on Spray Mobiles
-The Evolution of the "Nazzano" Method to Widen Tunnel without Interrupting Traffic Flow
Environmental Initiative of the Year
-Brenner Base Tunnel /Isarco Undercrossing Lot – Italy
-Innovative Overhead Conveyor Belt for Urban Environmental Benefit – Qatar
-The Corribtunnel Project – Tunneling in Environmentally Sensitive Area – Ireland
Safety Initiative of the Year         
-MineARC Systems Compressed Air Management Solution
-Safety Cabin of Tunneling Drill
-Semi-Automatic Tubular Steel Arch: An Innovation on Safety
Innovative Use of Underground Space   
-Reviving burial in tunnel – Israel
-Sydney Opera House Vehicle Access and Pedestrian Safety (VAPS) Project – Australia
-Toledo Metro Station on Line 1 in Naples – Italy
Young Tunneler of the Year
-Philip Duarte
-Petros Fortsakis
-Jurij Karlovsek
-Liu Hao
-Sindre Log
-Ryan McCarron
-Eloi Angelo Palma Filho
-Ponciano Perez Lupi
Contractor of the Year
-Bouygues (France)
-China Railway Tunnel Group (China)
-Kiewit (United States of America)
-Salini-Impregilo (Italy)
-Skanska (Sweden)
Engineer of the Year       
-CH2M (USA)
-China Railway Siyuan Survey and Design (China)
-Japan Railway Construction, Transport and Technology Agency (Japan)
-Mott McDonald (United Kingdom)
-Parsons Brinckerhoff-WSP (USA)
Lifetime Achievement
-Shortlist not announced
All of the awards will be presented during the one-day conference organized on Thursday, Nov. 19, 2015. To attend to the one-day conference and participate in the banquet, visit: awards.ita-aites.org.
About the International Tunnelling and Underground Space Association:

The International Tunnelling and Underground Space Association (ITA) is a non -profit and non-governmental international organization, which aims at promoting the use of underground space as a solution to sustainable development. Founded in 1974 and operating out of Lausanne, Switzerland, ITA currently associates 73 Member Nations, 300 affiliated members, 17 Prime Sponsors and 60 supporters.